Tioconazole - CAS 65899-73-2
Tioconazole is an antifungal medication of the imidazole class used to treat infections caused by a fungus or yeast. It is marketed under the brand names Trosyd and Gyno-Trosyd (Pfizer). Tioconazole ointments serve to treat women/'s vaginal yeast infections. Tioconazole topical (skin) preparations are also available for ringworm, jock itch, athlete/'s foot, and tinea versicolor or /sun fungus/.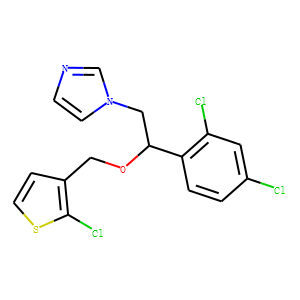 Molecular Formula: C16H13Cl3N2OS
Molecular Weight:387.71
* For research use only. Not for human or veterinary use.
Synonym
| | |
| --- | --- |
| Synonyms | 65899-73-2; Trosyl; Vagistat-1; Tioconazolum; Vagistat |
Property
| | |
| --- | --- |
| Molecular Formula: | C16H13Cl3N2OS |
| Molecular Weight | 387.71 |
| Purity | ≥95% |
| Storage | -20°C |
Computed Descriptor
| | |
| --- | --- |
| InChI | 1S/C16H13Cl3N2OS/c17-12-1-2-13(14(18)7-12)15(8-21-5-4-20-10-21)22-9-11-3-6-23-16(11)19/h1-7,10,15H,8-9H2 |
| InChIKey | QXHHHPZILQDDPS-UHFFFAOYSA-N |
| SMILES | C1=CC(=C(C=C1Cl)Cl)C(CN2C=CN=C2)OCC3=C(SC=C3)Cl |