SGI-1776- CAS 1025065-69-3
SGI-1776 is a novel ATP competitive inhibitor of Pim1 with IC50 of 7 nM; 50- and 10-fold selective versus Pim2 and Pim3, also potent to Flt3 and haspin.
IC50 value: 7 nM [1]
Target: Pim1
in vitro: In addition to Pim, SGI-1776 also potently targets FLT3 (IC50 = 44nM). Treatment of AML cells with SGI-1776 results in a concentration-dependent induction of apoptosis. Importantly, SGI-1776 is also cytotoxic in AML primary cells, irrespective of FLT3 mutation status and results in Mcl-1 protein decline [1]. Treatment of CLL cells with SGI-1776 results in a concentration-dependent induction of apoptosis. SGI-1776 induces apoptosis in CLL and that the mechanism involves Mcl-1 reduction. Apoptosis induction coupled with the inhibition of RNA synthesis is observed in CLL cells treated with SGI-1776 [2]. SGI-1776 exhibites cytotoxic activity in vitro with a median relative IC50 of 3.1 mM. SGI-1776 induces tumor growth inhibition meeting criteria for intermediate EFS T/C activity in 1 of 39 evaluable models. In contrast, SGI-1776 induces complete responses of subcutaneous MV4;11 [3].
in vivo: Consistent with cell line data, xenograft model studies with mice bearing MV-4-11 tumors shows efficacy with SGI-1776. [1] SGI-1776 has shown preclinical activity against leukemia and solid tumor cell line models with IC50 values of 0.005–11.68 mM. SGI-1776 induces significant differences in EFS distribution in vivo in 9 of 31 solid tumor xenografts and in 1 of 8 of the evaluable ALL xenografts [3].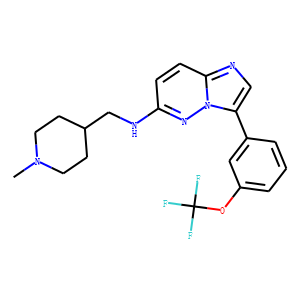 Catalog Number: I000164
CAS Number: 1025065-69-3
PubChem Substance ID:355040427
Molecular Formula: C₂₀H₂₂F₃N₅O
Molecular Weight:405.42
Purity: ≥95%
* For research use only. Not for human or veterinary use.
Synonym
| | |
| --- | --- |
| Synonyms | N-[(1-methylpiperidin-4-yl)methyl]-3-[3-(trifluoromethoxy)phenyl]imidazo[1,2-b]pyridazin-6-amine |
Property
| | |
| --- | --- |
| Molecular Formula: | C₂₀H₂₂F₃N₅O |
| Molecular Weight | 405.42 |
| Target: | Pim |
| Solubility | 10 mM in DMSO |
| Purity | ≥95% |
| Storage | 3 years -20C powder |
| IC50 | 7 nM [1] |
Computed Descriptor
| | |
| --- | --- |
| InChI | InChI=1S/C20H22F3N5O/c1-27-9-7-14(8-10-27)12-24-18-5-6-19-25-13-17(28(19)26-18)15-3-2-4-16(11-15)29-20(21,22)23/h2-6,11,13-14H,7-10,12H2,1H3,(H,24,26) |
| InChIKey | MHXGEROHKGDZGO-UHFFFAOYSA-N |
| SMILES | CN1CCC(CC1)CNC2=NN3C(=NC=C3C4=CC(=CC=C4)OC(F)(F)F)C=C2 |