Tyrphostin AG 490- CAS 133550-30-8
AG-490 (Tyrphostin AG 490) is an inhibitor of EGFR with IC50 of 0.1 μM, 135-fold more selective for EGFR versus ErbB2, also inhibits JAK2 with no activity to Lck, Lyn, Btk, Syk and Src.
IC50 value: 0.1 uM (EGFR)[1]; 10 uM (JAK2) [2]
Target: EGFR
in vitro: Corresponding to the specific dose-dependent inhibition of constitutively activated JAK2 in pre-B acute leukemia (ALL) cells, AG-490 (5 μM) almost completely blocks the growth of all ALL cells by inducing programmed cell death, with no deleterious effect on normal hematopoiesis. AG-490 does not inhibit the activities of Lck, Lyn, Btk, Syk, and Src [2]. AG-490 significantly inhibits the constitutive activation of Stat3 in MOPC, MPC11, and S194 cells, leading to dramatic dose-dependent apoptosis [3].
in vivo: Administration of AG-490 drastically reduces the numbers of CD45+ and HLA-DR+ cells from 48 % and 46% in bone marrow of untreated mice, as well as 38% and 22% in the spleen of untreated mice to undetectale levels [2]. In vivo administration of AG-490 causes murine myeloma tumor cell apoptosis but does not inhibit IL-12-mediated macrophage activation and IFN-γ production by lymphocytes [3].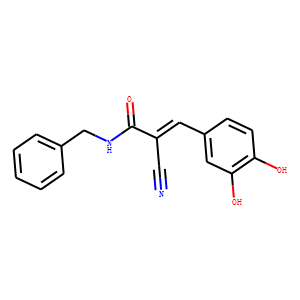 Catalog Number: I001280
CAS Number: 133550-30-8
PubChem Substance ID:355040581
Molecular Formula: C₁₇H₁₄N₂O₃
Molecular Weight:294.31
Purity: ≥95%
* For research use only. Not for human or veterinary use.
Synonym
| | |
| --- | --- |
| Synonyms | (E)-N-benzyl-2-cyano-3-(3,4-dihydroxyphenyl)prop-2-enamide |
Property
| | |
| --- | --- |
| Molecular Formula: | C₁₇H₁₄N₂O₃ |
| Molecular Weight | 294.31 |
| Target: | EGFR |
| Solubility | DMSO ≥57mg/mL Water <1.2mg/mL Ethanol ≥8mg/mL |
| Purity | ≥95% |
| Storage | 3 years -20C powder |
| MDL | MFCD00236452 |
| IC50 | 0.1 uM (EGFR)[1]; 10 uM (JAK2) [2] |
Computed Descriptor
| | |
| --- | --- |
| InChI | InChI=1S/C17H14N2O3/c18-10-14(8-13-6-7-15(20)16(21)9-13)17(22)19-11-12-4-2-1-3-5-12/h1-9,20-21H,11H2,(H,19,22)/b14-8+ |
| InChIKey | TUCIOBMMDDOEMM-RIYZIHGNSA-N |
| SMILES | C1=CC=C(C=C1)CNC(=O)C(=CC2=CC(=C(C=C2)O)O)C#N |