PF-4136309 - CAS 1341224-83-6
PF-4136309 (Cat No.: I001304) is a potent and selective antagonist of CCR2, a chemokine receptor involved in inflammation and immune responses. It effectively inhibits CCR2 in humans, mice, and rats with impressive IC50 values of 5.2 nM, 17 nM, and 13 nM, respectively. This selectivity and potency make PF-4136309 a valuable tool for researchers studying chemokine receptor biology and exploring potential therapeutic interventions targeting CCR2-mediated pathways. If you need to, please contact us in time, and we will reply to you as soon as possible within 24 hours.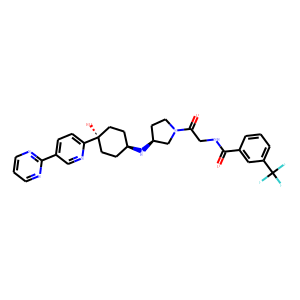 Molecular Formula: C29H31F3N6O3
Molecular Weight:568.60
* For research use only. Not for human or veterinary use.
Synonym
| | |
| --- | --- |
| Synonyms | N-(2-(3-((4-hydroxy-4-(5-(pyrimidin-2-yl)pyridin-2-yl)cyclohexyl)amino)pyrrolidin-1-yl)-2-oxoethyl)-3-(trifluoromethyl)benzamide |
Property
| | |
| --- | --- |
| Molecular Formula: | C29H31F3N6O3 |
| Molecular Weight | 568.60 |
| Target: | CCR2 |
| Solubility | DMSO: ≥ 32 mg/mL |
| Purity | ≥95% |
| Storage | -20°C |
Computed Descriptor
| | |
| --- | --- |
| IUPAC Name | N-[2-[(3S)-3-[[4-hydroxy-4-(5-pyrimidin-2-ylpyridin-2-yl)cyclohexyl]amino]pyrrolidin-1-yl]-2-oxoethyl]-3-(trifluoromethyl)benzamide |
| InChI | InChI=1S/C29H31F3N6O3/c30-29(31,32)21-4-1-3-19(15-21)27(40)36-17-25(39)38-14-9-23(18-38)37-22-7-10-28(41,11-8-22)24-6-5-20(16-35-24)26-33-12-2-13-34-26/h1-6,12-13,15-16,22-23,37,41H,7-11,14,17-18H2,(H,36,40)/t22?,23-,28?/m0/s1 |
| InChIKey | ZNSVOHSYDRPBGI-CBQRAPNFSA-N |
| SMILES | C1CC(CCC1NC2CCN(C2)C(=O)CNC(=O)C3=CC(=CC=C3)C(F)(F)F)(C4=NC=C(C=C4)C5=NC=CC=N5)O |