Ostarine - CAS 841205-47-8
Ostarine (CAT: I005881) also known as GTx-024 or MK-2866 or enobosarm, is an investigational selective androgen receptor modulator (SARM) for the treatment of conditions such as muscle wasting and osteoporosis. This product is used in medical research and development and other scientific research fields.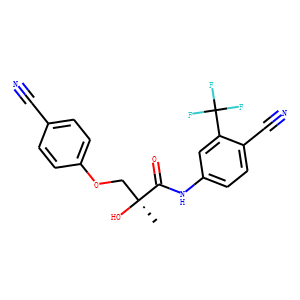 Molecular Formula: C19H14F3N3O3
Molecular Weight:389.33
Purity: ≥95%
Inventory:In Stock
* For research use only. Not for human or veterinary use.
Synonym
| | |
| --- | --- |
| Synonyms | MK2866; MK 2866; MK-2866; GTX024; GTX 024; GTX-024; Ostarine; Enobosarm. |
Property
| | |
| --- | --- |
| Molecular Formula: | C19H14F3N3O3 |
| Molecular Weight | 389.33 |
| Target: | androgen receptor (AR) |
| Solubility | Soluble in DMSO, not in water |
| Purity | ≥95% |
| Storage | Store at +4C |
| Overview of Clinical Research | Ostarine is a selective androgen receptor modulator. The phase II study was completed in 2019. |
Computed Descriptor
| | |
| --- | --- |
| IUPAC Name | (2S)-3-(4-cyanophenoxy)-N-[4-cyano-3-(trifluoromethyl)phenyl]-2-hydroxy-2-methylpropanamide |
| InChI | InChI=1S/C19H14F3N3O3/c1-18(27,11-28-15-6-2-12(9-23)3-7-15)17(26)25-14-5-4-13(10-24)16(8-14)19(20,21)22/h2-8,27H,11H2,1H3,(H,25,26)/t18-/m0/s1 |
| InChIKey | JNGVJMBLXIUVRD-SFHVURJKSA-N |
| SMILES | O=C(NC1=CC=C(C#N)C(C(F)(F)F)=C1)[C@@](C)(O)COC2=CC=C(C#N)C=C2 |