Nickel bis(dimethyldithiocarbamate) - CAS 15521-65-0
Nickel bis(dimethyldithiocarbamate) (Cat. No: M080021) is the coordination complex between nickel and dimethyldithiocarbamate. It is the prototype for a large number of bis(dialkhyldithiocarbamate)s of nickel(II), which feature diverse organic substituents, all of which have similar structures. It has been marketed as a fungicide and related complexes are used as stabilizers in polymers.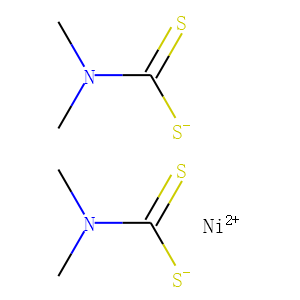 Molecular Formula: C6H12N2NiS4
Molecular Weight:299.109
* For research use only. Not for human or veterinary use.
Synonym
| | |
| --- | --- |
| Synonyms | Methyl niclate; Nocrac NMC; Sankel |
Property
| | |
| --- | --- |
| Molecular Formula: | C6H12N2NiS4 |
| Molecular Weight | 299.109 |
| Purity | ≥95% |
| Storage | -20°C |
Computed Descriptor
| | |
| --- | --- |
| IUPAC Name | N,N-dimethylcarbamodithioate;nickel(2+) |
| InChI | InChI=1S/2C3H7NS2.Ni/c2*1-4(2)3(5)6;/h2*1-2H3,(H,5,6);/q;;+2/p-2 |
| InChIKey | BLCKKNLGFULNRC-UHFFFAOYSA-L |
| SMILES | CN(C)C(=S)[S-].CN(C)C(=S)[S-].[Ni+2] |