GSK-1120212 - CAS 871700-17-3

Trametinib(cas# 871700-17-3), also known as GSK1120212, is a n orally bioavailable inhibitor of mitogen-activated protein kinase kinase (MEK MAPK/ERK kinase) with potential antineoplastic activity. Trametinib specifically binds to and inhibits MEK 1 and 2, resulting in an inhibition of growth factor-mediated cell signaling and cellular proliferation in various cancers. MEK 1 and 2, dual specificity threonine/tyrosine kinases often upregulated in various cancer cell types, play a key role in the activation of the RAS/RAF/MEK/ERK signaling pathway that regulates cell growth. On May 29, 2013, FDA approved T rametinib.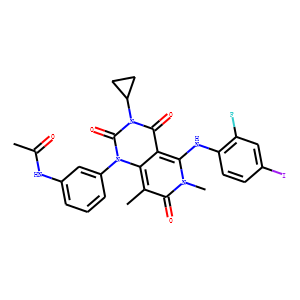 Molecular Formula: C₂₆H₂₃FIN₅O₄
Molecular Weight:615.39
* For research use only. Not for human or veterinary use.
Synonym
| | |
| --- | --- |
| Synonyms | JTP-74057; GSK1120212 |
Property
| | |
| --- | --- |
| Molecular Formula: | C₂₆H₂₃FIN₅O₄ |
| Molecular Weight | 615.39 |
| Target: | MEK1/2 |
| Solubility | 10 mM in DMSO |
| Purity | ≥95% |
| Storage | 3 years -20C powder |
| MDL | MFCD17215075 |
| Overview of Clinical Research | Originator: Japan Tobacco<br /> Developer: Dana-Farber Cancer Institute; GlaxoSmithKline; Japan Tobacco; National Cancer Institute (USA); Novartis; Pfizer; University of Texas M. D. Anderson Cancer Center<br /> Class: 2 ring heterocyclic compounds; Amides; Antineoplastics; Cyclopropanes; Fluorobenzenes; Iodobenzenes; Pyridines; Pyrimidines; Small molecules<br /> Mechanism of Action: MAP kinase kinase 1 inhibitors; MAP kinase kinase 2 inhibitors<br /> Orphan Drug Status: Yes – Malignant melanoma<br /> |
| IC50 | 0.92 nM/1.8 nM (MEK1/2) |
Computed Descriptor
| | |
| --- | --- |
| InChI | InChI=1S/C26H23FIN5O4/c1-13-22-21(23(31(3)24(13)35)30-20-10-7-15(28)11-19(20)27)25(36)33(17-8-9-17)26(37)32(22)18-6-4-5-16(12-18)29-14(2)34/h4-7,10-12,17,30H,8-9H2,1-3H3,(H,29,34) |
| InChIKey | LIRYPHYGHXZJBZ-UHFFFAOYSA-N |
| SMILES | CC1=C2C(=C(N(C1=O)C)NC3=C(C=C(C=C3)I)F)C(=O)N(C(=O)N2C4=CC(=CC=C4)NC(=O)C)C5CC5 |