Formamidine Sulfuric Acid- CAS 1758-73-2
Thiourea dioxide (Cat No.:R026802), also known as formamidine sulfinic acid or aminomethane sulfonic acid, is one of the important organic chemical products and is an odorless white powder-like substance, a stable compound with neither oxidizing nor reducing properties.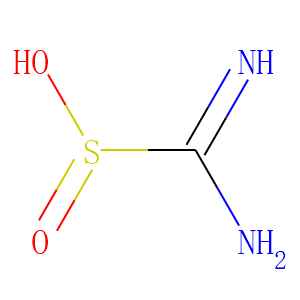 Molecular Formula: CH4N2O2S
Molecular Weight:108.115
* For research use only. Not for human or veterinary use.
Synonym
| | |
| --- | --- |
| Synonyms | Aminoiminomethanesulfinic Acid; Aminoiminomethanesulfinic Acid; Degussa F?FAS; Formamidine Sulfinate; Formamidinesulfinic Acid; Lorinol R; Manofast?NSC 226979; NSC 34540; NT-F 100; Operegal O; Polyclear; Reduktana; Rucorit RGH; Tec Light; Thiourea Di |
Property
| | |
| --- | --- |
| Molecular Formula: | CH4N2O2S |
| Molecular Weight | 108.115 |
| Purity | ≥95% |
| Storage | Desiccate at +4C |
Computed Descriptor
| | |
| --- | --- |
| IUPAC Name | amino(imino)methanesulfinic acid |
| InChI | InChI=1S/CH4N2O2S/c2-1(3)6(4)5/h(H3,2,3)(H,4,5) |
| InChIKey | FYOWZTWVYZOZSI-UHFFFAOYSA-N |
| SMILES | C(=N)(N)S(=O)O |