Fluralaner - CAS 864731-61-3
Flurapana (CAT: I006822) is an oral systemic insecticide and acaricide that acts primarily by interfering with GABA-gated chloride channels. Its toxicity is higher than or equivalent to commonly used insecticides. This product is used for medical research and development and other scientific research purposes.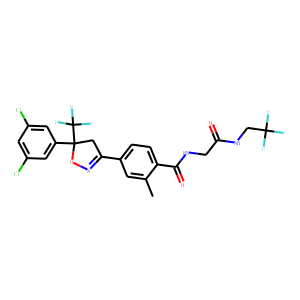 Molecular Formula: C22H17Cl2F6N3O3
Molecular Weight:556.3
* For research use only. Not for human or veterinary use.
Synonym
| | |
| --- | --- |
| Synonyms | AH252723; AH-252723; AH 252723; A-1443; A1443; A 1443; Fluralaner, trade name: Bravecto.;4-(5-(3,5-dichlorophenyl)-5-(trifluoromethyl)-4,5-dihydroisoxazol-3-yl)-2-methyl-N-(2-oxo-2-((2,2,2-trifluoroethyl)amino)ethyl)benzamide |
Property
| | |
| --- | --- |
| Molecular Formula: | C22H17Cl2F6N3O3 |
| Molecular Weight | 556.3 |
| Solubility | Soluble in DMSO, not in water |
| Purity | ≥95% |
| Storage | -20°C |
Computed Descriptor
| | |
| --- | --- |
| IUPAC Name | 4-[5-(3,5-dichlorophenyl)-5-(trifluoromethyl)-4H-1,2-oxazol-3-yl]-2-methyl-N-[2-oxo-2-(2,2,2-trifluoroethylamino)ethyl]benzamide |
| InChI | InChI=1S/C22H17Cl2F6N3O3/c1-11-4-12(2-3-16(11)19(35)31-9-18(34)32-10-21(25,26)27)17-8-20(36-33-17,22(28,29)30)13-5-14(23)7-15(24)6-13/h2-7H,8-10H2,1H3,(H,31,35)(H,32,34) |
| InChIKey | MLBZKOGAMRTSKP-UHFFFAOYSA-N |
| SMILES | CC1=CC(C2=NOC(C3=CC(Cl)=CC(Cl)=C3)(C(F)(F)F)C2)=CC=C1C(NCC(NCC(F)(F)F)=O)=O |