flazin - CAS 100041-05-2
Flazin(CAT: M002805) is a non-enzymatic protein glycosylation inhibitor that also inhibits peroxynitrite. Flazin could be used in research into diabetes and neuronal disease. Flazin can also be used as a lipid droplet (LD) regulator and xanthine oxidase (XOD) inhibitor against lipid disorders. This product is used for medical research and development and other scientific research purposes.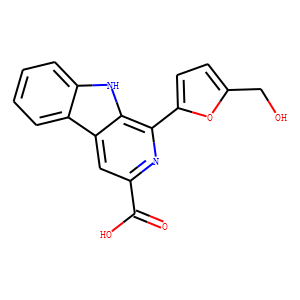 Molecular Formula: C17H12N2O4
Molecular Weight:308.293
* For research use only. Not for human or veterinary use.
Property
| | |
| --- | --- |
| Molecular Formula: | C17H12N2O4 |
| Molecular Weight | 308.293 |
| Purity | 98.0% |
| Storage | -20°C |
Computed Descriptor
| | |
| --- | --- |
| IUPAC Name | 1-[5-(hydroxymethyl)furan-2-yl]-9H-pyrido[3,4-b]indole-3-carboxylic acid |
| InChI | InChI=1S/C17H12N2O4/c20-8-9-5-6-14(23-9)16-15-11(7-13(19-16)17(21)22)10-3-1-2-4-12(10)18-15/h1-7,18,20H,8H2,(H,21,22) |
| InChIKey | USBWYUYKHHILLZ-UHFFFAOYSA-N |
| SMILES | C1=CC=C2C(=C1)C3=CC(=NC(=C3N2)C4=CC=C(O4)CO)C(=O)O |