Escitalopram Oxalate- CAS 219861-08-2
Escitalopram oxalate (Cat. No: A000710) is a new type of SSRIS drug, which mainly mediates the inhibitory effect of citalopram on 5-HT reuptake, and has a high affinity for low affinity allosteric binding sites. It has become the first-line drug for the treatment of depression by inhibiting 5-HT transporter (SERT) in a highly selective dose-dependent manner and inhibiting 5-HT reuptake in the presynaptic membrane of nerve endings in the central nervous system.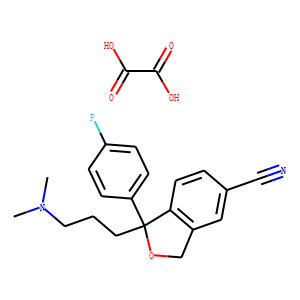 Molecular Formula: C22H23FN2O5
Molecular Weight:414.43
* For research use only. Not for human or veterinary use.
Synonym
| | |
| --- | --- |
| Synonyms | 219861-08-2; Lexapro; Cipralex; (S)-Citalopram Oxalate; Escitalopram (oxalate) |
Property
| | |
| --- | --- |
| Molecular Formula: | C22H23FN2O5 |
| Molecular Weight | 414.43 |
| Target: | SSRIs |
| Solubility | Soluble in DMSO > 10 mM |
| Purity | ≥95% |
| Storage | -20°C |
Computed Descriptor
| | |
| --- | --- |
| InChI | 1S/C20H21FN2O.C2H2O4/c1-23(2)11-3-10-20(17-5-7-18(21)8-6-17)19-9-4-15(13-22)12-16(19)14-24-20;3-1(4)2(5)6/h4-9,12H,3,10-11,14H2,1-2H3;(H,3,4)(H,5,6)/t20-;/m0./s1 |
| InChIKey | KTGRHKOEFSJQNS-BDQAORGHSA-N |
| SMILES | CN(C)CCCC1(C2=C(CO1)C=C(C=C2)C#N)C3=CC=C(C=C3)F.C(=O)(C(=O)O)O |