Candesartan Cilexetil- CAS 145040-37-5
Candesartan cilexetil is a prodrug of the potent, long-acting, and selective angiotensin II type 1 receptor (AT1) antagonist, candesartan. It is rapidly hydrolyzed to candesartan during gastrointestinal absorptio. Candesartan blocks the vasoconstrictor and aldosterone-secreting effects of angiotensin II by selectively blocking the binding of angiotensin II to the AT1 receptor in many tissues, such as vascular smooth muscle and the adrenal gland. Its action is, therefore, independent of the pathways for angiotensin II synthesis. Candesartan has much greater affinity ( > 10,000-fold) for the AT1 receptor than for the AT2 receptor.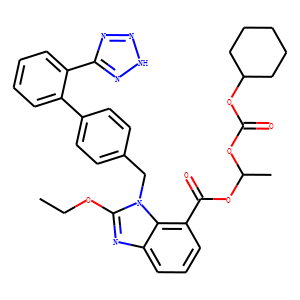 Molecular Formula: C33H34N6O6
Molecular Weight:610.7
* For research use only. Not for human or veterinary use.
Synonym
| | |
| --- | --- |
| Synonyms | 145040-37-5; Atacand; Amias; TCV-116; Parapres |
Property
| | |
| --- | --- |
| Molecular Formula: | C33H34N6O6 |
| Molecular Weight | 610.7 |
| Target: | AT1 antagonist |
| Purity | ≥95% |
| Storage | -20°C |
Computed Descriptor
| | |
| --- | --- |
| InChI | 1S/C33H34N6O6/c1-3-42-32-34-28-15-9-14-27(31(40)43-21(2)44-33(41)45-24-10-5-4-6-11-24)29(28)39(32)20-22-16-18-23(19-17-22)25-12-7-8-13-26(25)30-35-37-38-36-30/h7-9,12-19,21,24H,3-6,10-11,20H2,1-2H3,(H,35,36,37,38) |
| InChIKey | GHOSNRCGJFBJIB-UHFFFAOYSA-N |
| SMILES | CCOC1=NC2=CC=CC(=C2N1CC3=CC=C(C=C3)C4=CC=CC=C4C5=NNN=N5)C(=O)OC(C)OC(=O)OC6CCCCC6 |