Erlotinib, Hydrochloride Salt - CAS 183319-69-9

Erlotinib hydrochloride(cas 183319-69-9) is a drug used to treat non-small cell lung cancer, pancreatic cancer and several other types of cancer.


It is a tyrosine kinase inhibitor, which acts on the epidermal growth factor receptor (EGFR). Erlotinib is an epidermal growth factor receptor (EGFR) inhibitor. Erlotinib specifically targets the EGFR tyrosine kinase ATP binding site, which is highly expressed and occasionally mutated in various forms of cancer. Erlotinib prevents EGFR homodimer formation, a conformational change required for signal transmittance.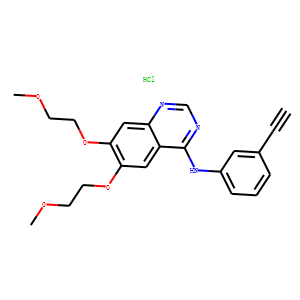 Molecular Formula: C₂₂H₂₃N₃O₄.HCl
Molecular Weight:429.9
Purity: ≥95%
Inventory:In Stock
* For research use only. Not for human or veterinary use.
Synonym
Property
| | |
| --- | --- |
| Molecular Formula: | C₂₂H₂₃N₃O₄.HCl |
| Molecular Weight | 429.9 |
| Target: | EGFR |
| Solubility | Soluble in DMSO at 18 mg/mL with warming; |
| Purity | ≥95% |
| Storage | -20°C |
| MDL | MFCD07781272 |
| Related CAS. | 183321-74-6(free base) |
Computed Descriptor
| | |
| --- | --- |
| InChI | InChI=1S/C22H23N3O4.ClH/c1-4-16-6-5-7-17(12-16)25-22-18-13-20(28-10-8-26-2)21(29-11-9-27-3)14-19(18)23-15-24-22;/h1,5-7,12-15H,8-11H2,2-3H3,(H,23,24,25);1H |
| InChIKey | GTTBEUCJPZQMDZ-UHFFFAOYSA-N |
| SMILES | COCCOC1=C(C=C2C(=C1)C(=NC=N2)NC3=CC=CC(=C3)C#C)OCCOC.Cl |