Fasudil, Monohydrochloride - CAS 105628-07-7
Fasudil(HA-1077), a potent and selective inhibitor of Rho kinase, displays less potent inhibiton over PKA, PKG, PKC and MLCK with Ki of 1.6, 1.6, 3.3, and 36 μM in cell-free assays, respectively.
Fasudil is a class of calcium antagonists. Fasudil produces a competitive inhibition of the Ca
Intra-coronary injection of Fasudil to dogs (30 μg i.a.) produces an approximate 50% increase in CBF. Fasudil (0.01, 0.03, 0.1 and 0.3 mg/kg, bolus, i.v.) dose-dependently decreases MBP and increases HR, VBF, CBF, RBF, and FBF. A total dose of 1.0 ng/mL Fasudil increases cardiac output. The infusion of Fasudil i.v. produces a significant fall in MBP, left ventricular systolic pressure and total peripheral resistance with an increase in HR and cardiac output, but without significant changes in right atrial pressure, dP/dt or left ventricular minute work in dogs.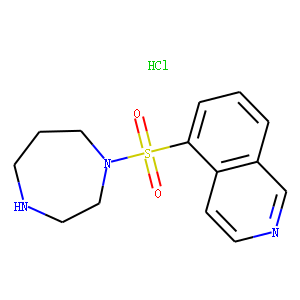 Molecular Formula: C₁₄H₁₇N₃O₂S•HCl
Molecular Weight:327.83
* For research use only. Not for human or veterinary use.
Synonym
Property
| | |
| --- | --- |
| Molecular Formula: | C₁₄H₁₇N₃O₂S•HCl |
| Molecular Weight | 327.83 |
| Target: | ROCK |
| Solubility | >16.4mg/mL in DMSO |
| Purity | ≥95% |
| Storage | 3 years -20C powder |
| MDL | MFCD00943198 |
Computed Descriptor
| | |
| --- | --- |
| InChI | InChI=1S/C14H17N3O2S.ClH/c18-20(19,17-9-2-6-15-8-10-17)14-4-1-3-12-11-16-7-5-13(12)14;/h1,3-5,7,11,15H,2,6,8-10H2;1H |
| InChIKey | LFVPBERIVUNMGV-UHFFFAOYSA-N |
| SMILES | C1CNCCN(C1)S(=O)(=O)C2=CC=CC3=C2C=CN=C3.Cl |