Decarbamoylsaxitoxin - CAS 58911-04-9

Decarbamoylsaxitoxin (CAS 58911-04-9), abbreviated as dcSTX, is a neurotoxin which is naturally produced in dinoflagellate. DcSTX is one of the many analogues of saxitoxin. Saxitoxin is a tricyclic alkaloid compound, which has multiple structural related neurotoxins.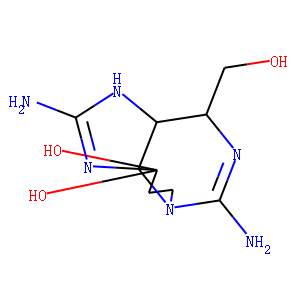 Molecular Formula: C9H16N6O3
Molecular Weight:256.266
* For research use only. Not for human or veterinary use.
Synonym
| | |
| --- | --- |
| Synonyms | Decarbamoylsaxitoxin; Decarbamylsaxitoxin; Descarbamoylsaxitoxin |
Property
| | |
| --- | --- |
| Molecular Formula: | C9H16N6O3 |
| Molecular Weight | 256.266 |
| Purity | ≥95% |
| Storage | -20°C |
Computed Descriptor
| | |
| --- | --- |
| IUPAC Name | (3aS,4R,10aS)-2,6-diamino-4-(hydroxymethyl)-3a,4,8,9-tetrahydro-3H-pyrrolo[1,2-c]purine-10,10-diol |
| InChI | InChI=1S/C9H16N6O3/c10-6-13-5-4(3-16)12-7(11)15-2-1-8(17,18)9(5,15)14-6/h4-5,16-18H,1-3H2,(H2,11,12)(H3,10,13,14)/t4-,5-,9-/m0/s1 |
| InChIKey | VRRIYZJUSNMZMP-PJPYAQQDSA-N |
| SMILES | C1CN2C(=NC(C3C2(C1(O)O)N=C(N3)N)CO)N |