AS 602801- CAS 848344-36-5
AS 602801(Bentamapimod) is a novel, orally active inhibitor of JNK.
IC50 value:
Target: JNK
In activated PBMCs from HVs, we showed that AS602801 blocked T-lymphocyte proliferation and induced apoptosis. In RRMS CD4+ and CD8+ cells, AS602801 induced apoptosis genes and expression of surface markers, while in RRMS CD11b+ cells it induced expression of innate immunity receptors and co-stimulatory molecules. Untreated cells from RRMS active-phase patients significantly released interleukin-23 (IL-23) and interferon-gamma (IFN-γ) and expressed less apoptosis markers compared to the cells of HVs.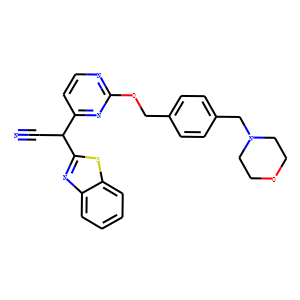 Catalog Number: I005085
CAS Number: 848344-36-5
PubChem Substance ID:355040360
Molecular Formula: C₂₅H₂₃N₅O₂S
Molecular Weight:457.55
Purity: ≥95%
* For research use only. Not for human or veterinary use.
Synonym
| | |
| --- | --- |
| Synonyms | 2-(1,3-benzothiazol-2-yl)-2-[2-[[4-(morpholin-4-ylmethyl)phenyl]methoxy]pyrimidin-4-yl]acetonitrile |
Property
| | |
| --- | --- |
| Molecular Formula: | C₂₅H₂₃N₅O₂S |
| Molecular Weight | 457.55 |
| Target: | JNK |
| Solubility | DMSO:10.8 mg/mL |
| Purity | ≥95% |
| Storage | Store at -20°C |
| MDL | MFCD08272350 |
Computed Descriptor
| | |
| --- | --- |
| InChI | InChI=1S/C25H23N5O2S/c26-15-20(24-28-22-3-1-2-4-23(22)33-24)21-9-10-27-25(29-21)32-17-19-7-5-18(6-8-19)16-30-11-13-31-14-12-30/h1-10,20H,11-14,16-17H2 |
| InChIKey | XCPPIJCBCWUBNT-UHFFFAOYSA-N |
| SMILES | C1COCCN1CC2=CC=C(C=C2)COC3=NC=CC(=N3)C(C#N)C4=NC5=CC=CC=C5S4 |