Virginiamycin - CAS 11006-76-1
Virginiamycin (Cat No.:R049097) is a mixture of virginiamycin M1 and virginiamycin S1, derived from Streptomyces virginiae. Primarily used in animal agriculture, it functions as a growth promoter and feed additive for livestock, aiding in weight gain, feed efficiency, and preventing gram-positive bacterial infections. However, concerns about antibiotic resistance have led to restrictions or bans on its use in some countries.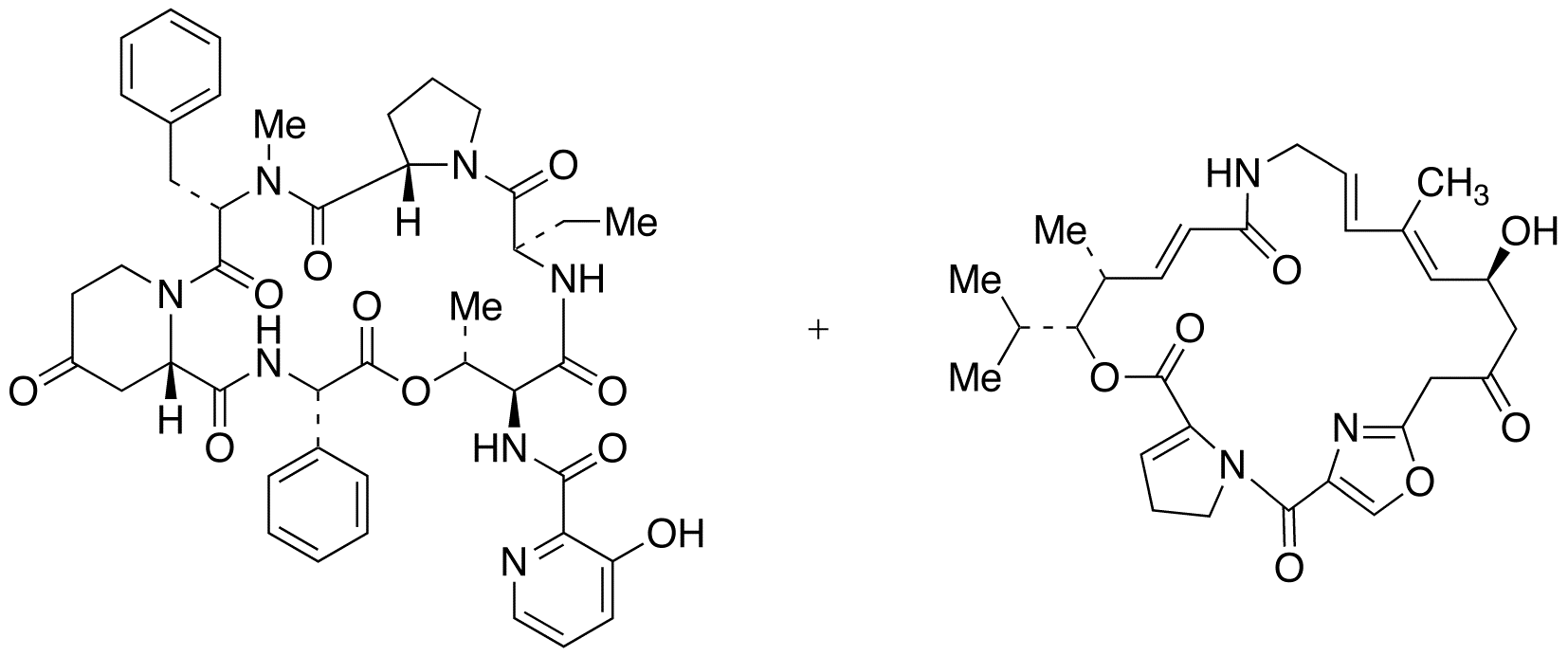 Molecular Formula: C43H49N7O10 • C28H35N3O10
Molecular Weight:1349.50
* For research use only. Not for human or veterinary use.
Synonym
| | |
| --- | --- |
| Synonyms | Mikamycin; Streptogramin; Eskalin 500; Eskalin V; Lactrol; Livelong; Pyostacin; Pyostacine; Stafac; Stafac 20; Stafac 500; Stapyocine; Virgimycin; |
Property
| | |
| --- | --- |
| Molecular Formula: | C43H49N7O10 • C28H35N3O10 |
| Molecular Weight | 1349.50 |
| Target: | Antibiotic |
| Solubility | Soluble in DMSO |
| Purity | ≥95% |
| Storage | Store at -20°C |
Computed Descriptor
| | |
| --- | --- |
| IUPAC Name | N-(3-benzyl-12-ethyl-4,16-dimethyl-2,5,11,14,18,21,24-heptaoxo-19-phenyl-17-oxa-1,4,10,13,20-pentazatricyclo[20.4.0.06,10]hexacosan-15-yl)-3-hydroxypyridine-2-carboxamide;(12Z,17Z,19Z)-21-hydroxy-11,19-dimethyl-10-propan-2-yl-9,26-dioxa-3,15,28-triazatricyclo[23.2.1.03,7]octacosa-1(27),6,12,17,19,25(28)-hexaene-2,8,14,23-tetrone |
| InChI | InChI=1S/C43H49N7O10.C28H35N3O7/c1-4-29-40(56)49-21-12-17-30(49)41(57)48(3)32(23-26-13-7-5-8-14-26)42(58)50-22-19-28(51)24-31(50)37(53)47-35(27-15-9-6-10-16-27)43(59)60-25(2)34(38(54)45-29)46-39(55)36-33(52)18-11-20-44-36;1-17(2)26-19(4)9-10-24(34)29-11-5-7-18(3)13-20(32)14-21(33)15-25-30-22(16-37-25)27(35)31-12-6-8-23(31)28(36)38-26/h5-11,13-16,18,20,25,29-32,34-35,52H,4,12,17,19,21-24H2,1-3H3,(H,45,54)(H,46,55)(H,47,53);5,7-10,13,16-17,19-20,26,32H,6,11-12,14-15H2,1-4H3,(H,29,34)/b;7-5-,10-9-,18-13- |
| InChIKey | MVTQIFVKRXBCHS-FHWPYUEJSA-N |
| SMILES | CCC1C(=O)N2CCCC2C(=O)N(C(C(=O)N3CCC(=O)CC3C(=O)NC(C(=O)OC(C(C(=O)N1)NC(=O)C4=C(C=CC=N4)O)C)C5=CC=CC=C5)CC6=CC=CC=C6)C.CC1C=CC(=O)NCC=CC(=CC(CC(=O)CC2=NC(=CO2)C(=O)N3CCC=C3C(=O)OC1C(C)C)O)C |