VcMMAE - CAS 646502-53-6
VcMMAE(Cat No.:I004434) is an antibody-drug conjugate (ADC) designed for potent antitumor activity. It utilizes monomethyl auristatin E (MMAE), an anti-mitotic agent, as its payload. MMAE is linked to the ADC through a lysosomally cleavable dipeptide, valine-citrulline (vc). This linker enables specific delivery of MMAE to tumor cells via antibody targeting. Once inside the tumor cells, the dipeptide linker is cleaved in the lysosomes, releasing MMAE and leading to its potent cytotoxic effects, ultimately resulting in tumor cell death. VcMMAE represents a promising approach in targeted cancer therapy using antibody-drug conjugates.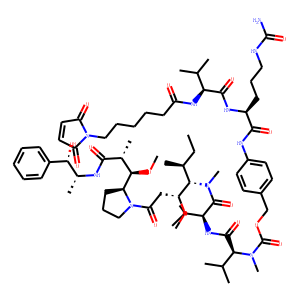 Molecular Formula: C68H105N11O15
Molecular Weight:1316.63
* For research use only. Not for human or veterinary use.
Property
| | |
| --- | --- |
| Molecular Formula: | C68H105N11O15 |
| Molecular Weight | 1316.63 |
| Target: | Antibody-drug conjugate; Tubulin |
| Solubility | DMSO: ≥ 54 mg/mL |
| Purity | ≥95% |
| Storage | Room Temperature |
Computed Descriptor
| | |
| --- | --- |
| IUPAC Name | [4-[[(2S)-5-(carbamoylamino)-2-[[(2S)-2-[6-(2,5-dioxopyrrol-1-yl)hexanoylamino]-3-methylbutanoyl]amino]pentanoyl]amino]phenyl]methyl N-[(2S)-1-[[(2S)-1-[[(3R,4S,5S)-1-[(2S)-2-[(1R,2R)-3-[[(1S,2R)-1-hydroxy-1-phenylpropan-2-yl]amino]-1-methoxy-2-methyl-3-oxopropyl]pyrrolidin-1-yl]-3-methoxy-5-methyl-1-oxoheptan-4-yl]-methylamino]-3-methyl-1-oxobutan-2-yl]amino]-3-methyl-1-oxobutan-2-yl]-N-methylcarbamate |
| InChI | InChI=1S/C68H105N11O15/c1-15-43(8)59(51(92-13)38-55(83)78-37-23-27-50(78)61(93-14)44(9)62(85)71-45(10)60(84)47-24-18-16-19-25-47)76(11)66(89)57(41(4)5)75-65(88)58(42(6)7)77(12)68(91)94-39-46-29-31-48(32-30-46)72-63(86)49(26-22-35-70-67(69)90)73-64(87)56(40(2)3)74-52(80)28-20-17-21-36-79-53(81)33-34-54(79)82/h16,18-19,24-25,29-34,40-45,49-51,56-61,84H,15,17,20-23,26-28,35-39H2,1-14H3,(H,71,85)(H,72,86)(H,73,87)(H,74,80)(H,75,88)(H3,69,70,90)/t43-,44+,45+,49-,50-,51+,56-,57-,58-,59-,60+,61+/m0/s1 |
| InChIKey | NLMBVBUNULOTNS-HOKPPMCLSA-N |
| SMILES | CCC(C)C(C(CC(=O)N1CCCC1C(C(C)C(=O)NC(C)C(C2=CC=CC=C2)O)OC)OC)N(C)C(=O)C(C(C)C)NC(=O)C(C(C)C)N(C)C(=O)OCC3=CC=C(C=C3)NC(=O)C(CCCNC(=O)N)NC(=O)C(C(C)C)NC(=O)CCCCCN4C(=O)C=CC4=O |