UCB-6786 - CAS 537018-21-6
UCB-6786 (CAT: I037763) is a novel inhibitor of tumor necrosis factor (TNF) signaling. It exerts its inhibitory effects by stabilizing an asymmetric form of the TNF trimer. UCB-6786 displays a concentration-dependent response curve and exhibits selectivity over the extracellular domain of TNF receptor 1 (TNFR1) and control proteins. By targeting TNF signaling, UCB-6786 has the potential to modulate inflammatory responses and may have therapeutic applications in diseases associated with dysregulated TNF signaling pathways.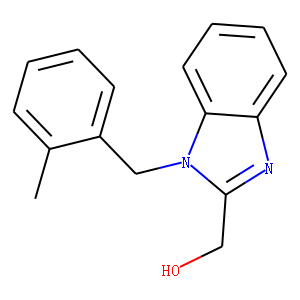 Molecular Formula: C16H16N2O
Molecular Weight:252.317
* For research use only. Not for human or veterinary use.
Synonym
| | |
| --- | --- |
| Synonyms | UCB-6786; UCB 6786; UCB6786 |
Property
| | |
| --- | --- |
| Molecular Formula: | C16H16N2O |
| Molecular Weight | 252.317 |
| Solubility | Soluble in DMSO |
| Purity | 98.0% |
| Storage | Dry, dark and at 0 - 4 C for short term (days to weeks) or -20 C for long term (months to years). |
Computed Descriptor
| | |
| --- | --- |
| IUPAC Name | (1-(2-Methylbenzyl)-1H-benzo[d]imidazol-2-yl)methanol |
| InChI | InChI=1S/C16H16N2O/c1-12-6-2-3-7-13(12)10-18-15-9-5-4-8-14(15)17-16(18)11-19/h2-9,19H,10-11H2,1H3 |
| InChIKey | FDWSLDWZHYNDAX-UHFFFAOYSA-N |
| SMILES | OCC1=NC2=CC=CC=C2N1CC3=CC=CC=C3C |