TUNGSTEN(VI) CHLORIDE - CAS 13283-01-7
TUNGSTEN(VI) CHLORIDE (CAS 13283-01-7) is a tungsten coordination entity. It is an important starting reagent in the preparation of tungsten compounds. It was the precursor to tungsten-based carbenes which catalyze the olefin metathesis reactions of 1- and 2-octene. It promoted the conversion of 1,3-dithiolanes and 1,3-dithianes to chlorinated dihydro-1,4-dithiins and dihydro-1,4-dithiepines.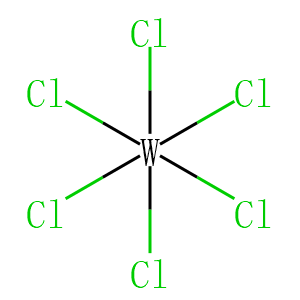 Molecular Formula: WCl6
Molecular Weight:396.54
* For research use only. Not for human or veterinary use.
Synonym
| | |
| --- | --- |
| Synonyms | Tungsten hexachloride; Hexachlorotungsten; Wolfram hexachloride |
Property
| | |
| --- | --- |
| Molecular Formula: | WCl6 |
| Molecular Weight | 396.54 |
| Purity | ≥95% |
| Storage | -20°C |
Computed Descriptor
| | |
| --- | --- |
| IUPAC Name | hexachlorotungsten |
| InChI | InChI=1S/6ClH.W/h6*1H;/q;;;;;;+6/p-6 |
| InChIKey | KPGXUAIFQMJJFB-UHFFFAOYSA-H |
| SMILES | Cl[W](Cl)(Cl)(Cl)(Cl)Cl |