Ticagrelor-d7 - CAS 1265911-55-4

Ticagrelor-d7(CAS 1265911-55-4) is intended for use as an internal standard for the quantification of ticagrelor by GC- or LC-MS. Ticagrelor is a reversible antagonist of the platelet purinergic P2Y12 receptor (Ki = 14 nM; IC50 = 1.8 μM), which is the main receptor responsible for ADP-induced platelet aggregation. It functions by directly changing the conformation of the P2Y12 receptor to inhibit ADP binding. Formulations containing ticagrelor have been used to reduce the rate of thrombotic cardiovascular events in patients with acute coronary syndrome.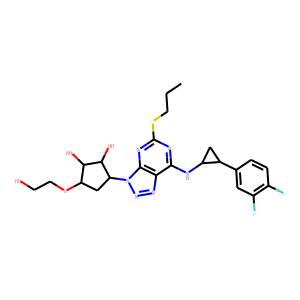 Molecular Formula: C23H21D7F2N6O4S
Molecular Weight:529.615
* For research use only. Not for human or veterinary use.
Synonym
| | |
| --- | --- |
| Synonyms | (1S,2S,3R,5S)-3-[7-[[(1R,2S)-2-(3,4-D1,2-Cyclopentanediolifluorophenyl)cyclopropyl]amino]-5-(propylthio-d7)-3H-1,2,3-triazolo[4,5-d]pyrimidin-3-yl]-5-(2-hydroxyethoxy)-1,2-cyclopentanediol; AR-C 126532XX-d7; AZD 6140-d7; |
Property
| | |
| --- | --- |
| Molecular Formula: | C23H21D7F2N6O4S |
| Molecular Weight | 529.615 |
| Purity | ≥95% |
| Storage | -20°C |
| Related CAS. | 274693-27-5 (unlabelled) |
Computed Descriptor
| | |
| --- | --- |
| IUPAC Name | (1S,2S,3R,5S)-3-[7-[[(1R,2S)-2-(3,4-difluorophenyl)cyclopropyl]amino]-5-(1,1,2,2,3,3,3-heptadeuteriopropylsulfanyl)triazolo[4,5-d]pyrimidin-3-yl]-5-(2-hydroxyethoxy)cyclopentane-1,2-diol |
| InChI | InChI=1S/C23H28F2N6O4S/c1-2-7-36-23-27-21(26-15-9-12(15)11-3-4-13(24)14(25)8-11)18-22(28-23)31(30-29-18)16-10-17(35-6-5-32)20(34)19(16)33/h3-4,8,12,15-17,19-20,32-34H,2,5-7,9-10H2,1H3,(H,26,27,28)/t12-,15+,16+,17-,19-,20+/m0/s1/i1D3,2D2,7D2 |
| InChIKey | OEKWJQXRCDYSHL-MHTCSOGVSA-N |
| SMILES | CCCSC1=NC2=C(C(=N1)NC3CC3C4=CC(=C(C=C4)F)F)N=NN2C5CC(C(C5O)O)OCCO |