Ticagrelor - CAS 274693-27-5
Ticagrelor (CAT: A000779), also known as AZD-6140 and AR-C 126532XX, is a platelet aggregation inhibitor produced The drug was approved by FDA in 2011. Ticagrelor is an antagonist of the P2Y12 receptor. Like the thienopyridines prasugrel, clopidogrel and ticlopidine, ticagrelor blocks adenosine diphosphate (ADP) receptors of subtype P2Y12. This product is used for medical research and development and other scientific research purposes.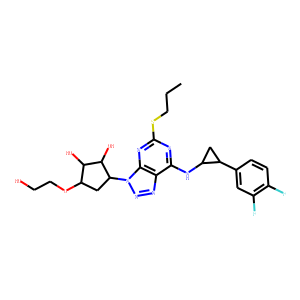 Molecular Formula: C23H28F2N6O4S
Molecular Weight:522.6
* For research use only. Not for human or veterinary use.
Synonym
| | |
| --- | --- |
| Synonyms | 274693-27-5; Brilinta; Brilique; AZD-6140; AZD6140 |
Property
| | |
| --- | --- |
| Molecular Formula: | C23H28F2N6O4S |
| Molecular Weight | 522.6 |
| Target: | P2Y Receptor |
| Solubility | >26.2mg/mL in DMSO |
| Purity | ≥95% |
| Storage | -20°C |
Computed Descriptor
| | |
| --- | --- |
| IUPAC Name | (1S,2S,3R,5S)-3-[7-[[(1R,2S)-2-(3,4-difluorophenyl)cyclopropyl]amino]-5-propylsulfanyltriazolo[4,5-d]pyrimidin-3-yl]-5-(2-hydroxyethoxy)cyclopentane-1,2-diol |
| InChI | 1S/C23H28F2N6O4S/c1-2-7-36-23-27-21(26-15-9-12(15)11-3-4-13(24)14(25)8-11)18-22(28-23)31(30-29-18)16-10-17(35-6-5-32)20(34)19(16)33/h3-4,8,12,15-17,19-20,32-34H,2,5-7,9-10H2,1H3,(H,26,27,28)/t12-,15+,16+,17-,19-,20+/m0/s1 |
| InChIKey | OEKWJQXRCDYSHL-FNOIDJSQSA-N |
| SMILES | CCCSC1=NC2=C(C(=N1)NC3CC3C4=CC(=C(C=C4)F)F)N=NN2C5CC(C(C5O)O)OCCO |