Telocinobufagin- CAS 472-26-4

Telocinobufagin(cas 472-26-4) is one of anti-hepatoma constituent in Venenum Bufonis.


in vitro: Telocinobufagin markedly enhances natural killer cell and peritoneal macrophage activation. Telocinobufagin increases the percentage of CD4, CD8 positive cells within a population of splenocytes.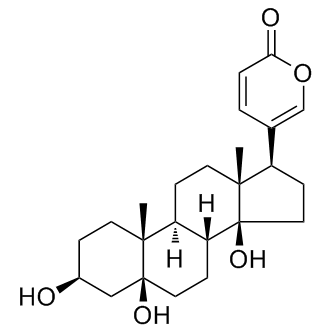 Catalog Number: I000011
CAS Number: 472-26-4
PubChem Substance ID:355037312
Molecular Formula: C24H34O5
Molecular Weight:402.52
Purity: ≥95%
* For research use only. Not for human or veterinary use.
Property
| | |
| --- | --- |
| Molecular Formula: | C24H34O5 |
| Molecular Weight | 402.52 |
| Solubility | 10 mM in DMSO, Chloroform (Sparingly), Methanol (Sparingly) |
| Purity | ≥95% |
| Storage | 3 years -20C powder |