Taurolidine - CAS 19388-87-5
Taurolidine (Cat.No:R045700) is a synthetic derivative of the amino acid taurine. It exhibits antibacterial, antifungal, and antineoplastic properties. Taurolidine's ability to inhibit biofilm formation and suppress tumor growth has attracted interest in various medical fields, including wound care, catheter-related infections, and potential cancer therapies.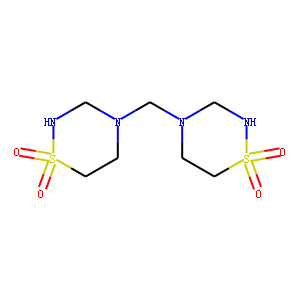 Molecular Formula: C7H16N4O4S2
Molecular Weight:284.349
* For research use only. Not for human or veterinary use.
Synonym
| | |
| --- | --- |
| Synonyms | 4,4'-Methylenebis[tetrahydro-2H-1,2,4-thiadiazine 1,1,1',1'-Tetraoxide; ?4,4'-Methylenebis(perhydro-1,2,4-thiadiazin 1,1-dioxide); Taurolin; Tauroline |
Property
| | |
| --- | --- |
| Molecular Formula: | C7H16N4O4S2 |
| Molecular Weight | 284.349 |
| Target: | Antibiotic |
| Solubility | Soluble in DMSO |
| Purity | ≥95% |
| Storage | Store at -20°C |
Computed Descriptor
| | |
| --- | --- |
| IUPAC Name | 4-[(1,1-dioxo-1,2,4-thiadiazinan-4-yl)methyl]-1,2,4-thiadiazinane 1,1-dioxide |
| InChI | InChI=1S/C7H16N4O4S2/c12-16(13)3-1-10(5-8-16)7-11-2-4-17(14,15)9-6-11/h8-9H,1-7H2 |
| InChIKey | AJKIRUJIDFJUKJ-UHFFFAOYSA-N |
| SMILES | C1CS(=O)(=O)NCN1CN2CCS(=O)(=O)NC2 |