TAS6417- CAS 1661854-97-2
TAS6417 (CLN-081) is a highly effective, orally active and pan-mutation-selective EGFR tyrosine kinase inhibitor with a unique scaffold fitting into the ATP-binding site of the EGFR hinge region, with IC50 values ranging from 1.1-8.0 nM[1][2].
TAS6417 inhibits EGFR phosphorylation and downstream molecules in NSCLC cell lines expressing EGFR exon 20 insertions, resulting in caspase activation[1].
TAS6417 is a robust inhibitor against the most common EGFR mutations (exon 19 deletions and L858R) and the most potent against cells harboring EGFR-T790M (1st/2nd generation TKI resistance mutation)[2].
TAS6417 covalently modified the cysteine residue at position 797 of recombinant EGFR harboring an in-frame insertion mutation in the exon 20 region[1].
TAS6417 inhibits EGFR signal transduction, leading to cell growth inhibition and apoptosis induction in NSCLC cells driven by EGFR exon 20 insertion mutations[1].
TAS6417 (0-10 μM) inhibits cell proliferation and EGFR signaling in NSCLC cell lines harboring EGFR common mutations in the presence or absence of T790M[2].
TAS6417 (10-200 mg/kg) causes persistent tumor regression in vivo in EGFR exon 20 insertion-driven tumor models. TAS6417 inhibits mutant EGFR in tumors but not WT EGFR in skin tissues[1].
TAS6417 had no effect on EGFR-independent proliferation in NCI-H23 or NCI-H460 cells[1].
TAS6417 administered at 20 mg/kg, which achieves complete suppression of tumor growth, induces a significant decrease in pEGFR, leading to reduction of pAKT and pERK at 1 h. The inhibitory effect is still noted at 6 h, and phosphorylation of EGFR, ATK, and ERK recovered by 24 h[1].
TAS6417 (100 and 200 mg/kg/day) prolongs survival of animals bearing lung cancer[1].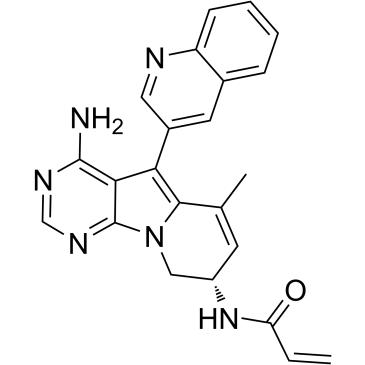 Molecular Formula: C₂₃H₂₀N₆O
Molecular Weight:396.44
* For research use only. Not for human or veterinary use.
Property
| | |
| --- | --- |
| Molecular Formula: | C₂₃H₂₀N₆O |
| Molecular Weight | 396.44 |
| Purity | ≥95% |