SUN81928- CAS 2377881-92-8
MSA-2 dimer is an oral non-nucleotide STING agonist with nanomolar affinity (Kd = 145 μM). It binds to STING as a non-covalent dimer and has long-term antitumor and immunogenic activity. MSA-2 dimer has higher permeability than cyclic dinucleotide, making it a promising candidate for cancer immunotherapy.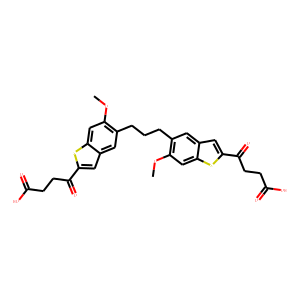 Molecular Formula: C29H28O8S2
Molecular Weight:568.655
* For research use only. Not for human or veterinary use.
Synonym
| | |
| --- | --- |
| Synonyms | SUN81928; SUN-81928; SUN 81928; |
Property
| | |
| --- | --- |
| Molecular Formula: | C29H28O8S2 |
| Molecular Weight | 568.655 |
| Solubility | To be determined |
| Purity | 98.0% |
| Storage | Dry, dark and at 0 - 4 C for short term (days to weeks) or -20 C for long term (months to years). |
Computed Descriptor
| | |
| --- | --- |
| IUPAC Name | 4,4'-(propane-1,3-diylbis(6-methoxybenzo[b]thiophene-5,2-diyl))bis(4-oxobutanoic acid) |
| InChI | InChI=1S/C29H28O8S2/c1-36-22-14-24-18(12-26(38-24)20(30)6-8-28(32)33)10-16(22)4-3-5-17-11-19-13-27(21(31)7-9-29(34)35)39-25(19)15-23(17)37-2/h10-15H,3-9H2,1-2H3,(H,32,33)(H,34,35) |
| InChIKey | SSYYPCWAUQMVJQ-UHFFFAOYSA-N |
| SMILES | O=C(O)CCC(C1=CC2=CC(CCCC3=C(OC)C=C4C(C=C(C(CCC(O)=O)=O)S4)=C3)=C(OC)C=C2S1)=O |