(S,R,S)-AHPC-Me - CAS 1948273-02-6
 (S,R,S)-AHPC-Me(CAT: I020316), also known as (S,R,S)-N-Methyl-3-(1-(5-methyl-1H-pyrazol-3-yl)ethyl)-3-phenylpropionamide, is a selective androgen receptor degrader (SARD) or proteolysis targeting chimera (PROTAC). PROTACs are small molecules designed to recruit target proteins to an E3 ubiquitin ligase complex, leading to their ubiquitination and subsequent degradation by the proteasome. (S,R,S)-AHPC-Me functions by binding to the androgen receptor and recruiting the E3 ubiquitin ligase complex, resulting in the degradation of the androgen receptor. This mechanism offers a potential therapeutic approach for diseases such as prostate cancer, where the androgen receptor plays a crucial role. Further research and development are ongoing to explore the therapeutic potential of (S,R,S)-AHPC-Me as a PROTAC.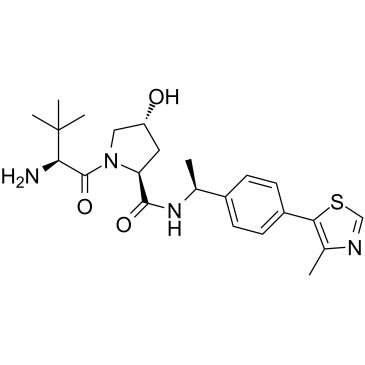 Molecular Formula: C₂₃H₃₂N₄O₃S
Molecular Weight:444.59
* For research use only. Not for human or veterinary use.
Property
| | |
| --- | --- |
| Molecular Formula: | C₂₃H₃₂N₄O₃S |
| Molecular Weight | 444.59 |
| Purity | ≥95% |