Sodium Colistin Methanesulfonate - CAS 8068-28-8
Colistin (Cat.No:A001228) is a unique sparingly soluble cyclic polypeptide antibiotic known as a polymyxin. Colistin has a bactericidal effect on bacteria by targeting the cell membrane and modifying its permeability. New Delhi metallo-β-lactamase multidrug-resistant Enterobacteriaceae have also shown susceptibility to Colistin.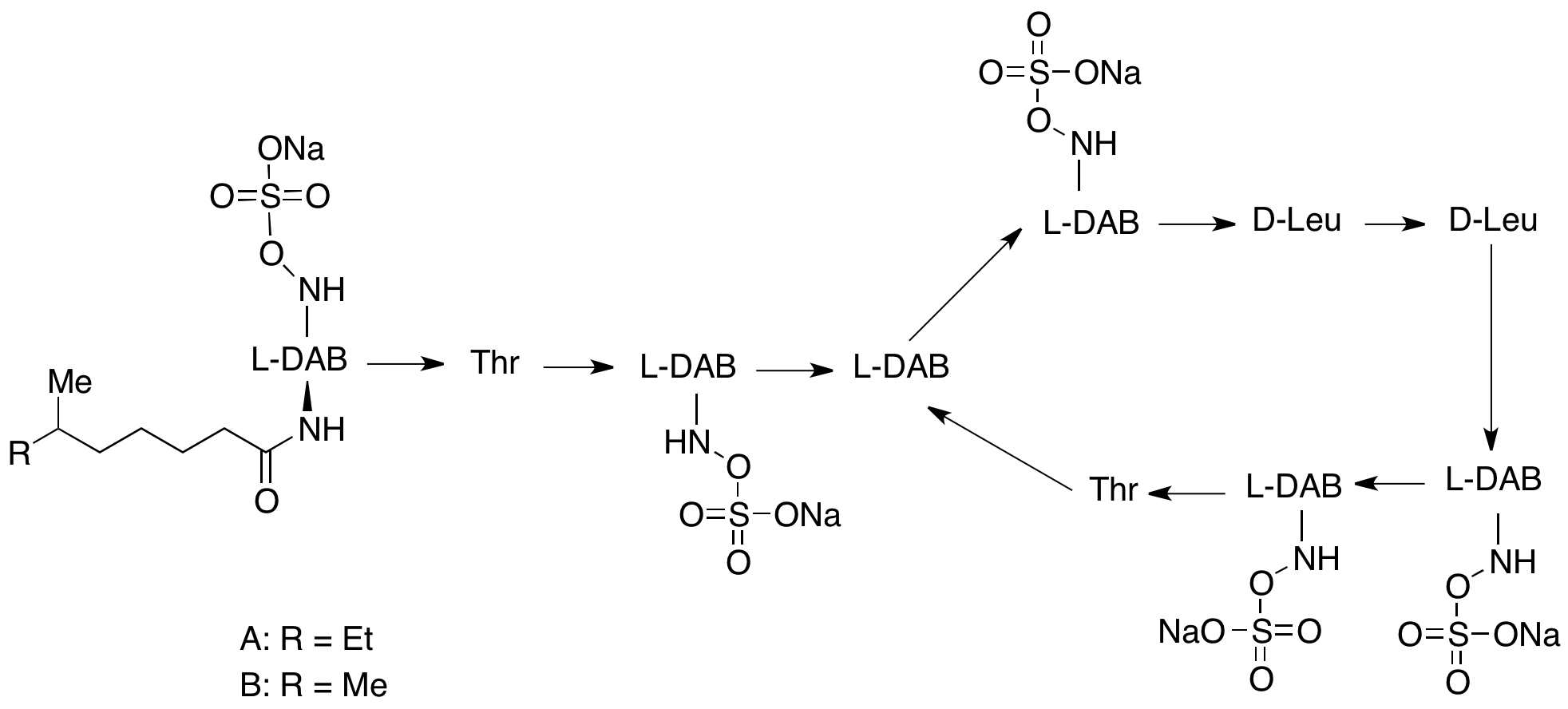 Molecular Formula: C58H105N16O28S5 • 5Na
Molecular Weight:1749.8
* For research use only. Not for human or veterinary use.
Synonym
| | |
| --- | --- |
| Synonyms | Colistinmethanesulfonic Acid; Colimycin M; Colimycin Sodium Methanesulfonate; Colistimethate; Colistin Sodium Methanesulfonate; Colistin Sulfomethate; Colistin Sulfomethate Sodium; Colistin, Methyl Sulfate Sodium Salt; Colistinat; Coly-Mycin Injectab |
Property
| | |
| --- | --- |
| Molecular Formula: | C58H105N16O28S5 • 5Na |
| Molecular Weight | 1749.8 |
| Target: | Antibiotic |
| Solubility | Soluble in DMSO |
| Purity | ≥95% |
| Storage | Store at -20C |
Computed Descriptor
| | |
| --- | --- |
| InChIKey | IQWHCHZFYPIVRV-VLLYEMIKSA-I |
| SMILES | CC[C@H](CCCCC(N[C@H](C(N[C@H](C(N[C@H](C(N[C@H]1CCNC([C@H]([C@H](O)C)NC([C@@H](NC([C@@H](NC([C@@H](NC([C@H](NC([C@@H](NC1=O)CCNCS([O-])(=O)=O)=O)CC(C)C)=O)CC(C)C)=O)CCNCS([O-])(=O)=O)=O)CCNCS([O-])(=O)=O)=O)=O)=O)CCNCS([O-])(=O)=O)=O)[C@H](O)C)=O)CCN |