Sodium Benzoate - CAS 532-32-1
Sodium Benzoate (Cat. No: R020898), also known as Antimol, is a food preservative commonly used in the food industry and can also be used in the pharmaceutical industry and plant genetic research.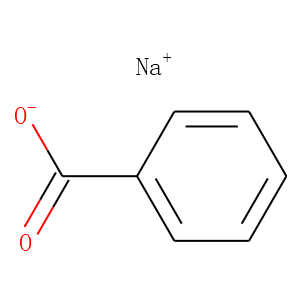 Molecular Formula: C7H5O2Na
Molecular Weight:144.105
* For research use only. Not for human or veterinary use.
Synonym
| | |
| --- | --- |
| Synonyms | Antimol; Benzoate of Soda; E 211; E 221; E 221 (nucleating agent); Fuminaru; Purox S; Sobenate |
Property
| | |
| --- | --- |
| Molecular Formula: | C7H5O2Na |
| Molecular Weight | 144.105 |
| Purity | ≥95% |
| Storage | -20°C |
Computed Descriptor
| | |
| --- | --- |
| IUPAC Name | sodium;benzoate |
| InChI | InChI=1S/C7H6O2.Na/c8-7(9)6-4-2-1-3-5-6;/h1-5H,(H,8,9);/q;+1/p-1 |
| InChIKey | WXMKPNITSTVMEF-UHFFFAOYSA-M |
| SMILES | C1=CC=C(C=C1)C(=O)[O-].[Na+] |