Salcaprozate sodium - CAS 203787-91-1
Salcaprozate sodium(CAT: I000062) is an oral absorption enhancer that has the potential to act as a delivery agent for oral forms of heparin and insulin. Salcaprozate sodium increases the lipophilicity caused by the complexation of non-covalent macromolecules, thus increasing the passive transcellular penetration of small intestinal epithelial cells. This product is used for medical research and development and other scientific research purposes.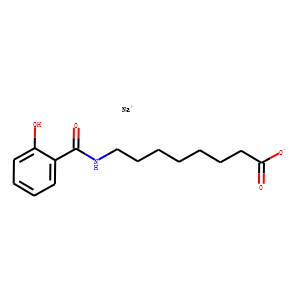 Molecular Formula: C15H20NNaO4
Molecular Weight:301.318
* For research use only. Not for human or veterinary use.
Synonym
| | |
| --- | --- |
| Synonyms | SNAC;sodium 8-((2-hydroxybenzoyl) amino) octanoate |
Property
| | |
| --- | --- |
| Molecular Formula: | C15H20NNaO4 |
| Molecular Weight | 301.318 |
| Purity | ≥95% |
| Storage | Store at 0-8°C |
Computed Descriptor
| | |
| --- | --- |
| IUPAC Name | sodium;8-[(2-hydroxybenzoyl)amino]octanoate |
| InChI | InChI=1S/C15H21NO4.Na/c17-13-9-6-5-8-12(13)15(20)16-11-7-3-1-2-4-10-14(18)19;/h5-6,8-9,17H,1-4,7,10-11H2,(H,16,20)(H,18,19);/q;+1/p-1 |
| InChIKey | UOENJXXSKABLJL-UHFFFAOYSA-M |
| SMILES | C1=CC=C(C(=C1)C(=O)NCCCCCCCC(=O)[O-])O.[Na+] |