Ruxolitinib, Free base- CAS 941678-49-5
Ruxolitinib (INCB018424) is the first potent, selective, JAK1/2 inhibitor to enter the clinic with IC50 of 3.3 nM/2.8 nM in cell-free assays, >130-fold selectivity for JAK1/2 versus JAK3.
INCB018424 potently and selectively inhibits JAK2V617F-mediated signaling and proliferation in Ba/F3 cells and HEL cells. INCB018424 markedly increases apoptosis in a dose dependent manner in Ba/F3 cells. INCB018424 (64 nM) results in a doubling of cells with depolarized mitochondria in Ba/F3 cells. INCB018424 inhibits proliferating of erythroid progenitors from normal donors and polycythemia vera patients with IC50 of 407 nM and 223 nM, respectively. INCB018424 demonstrates remarkable potency against erythroid colony formation with IC50 of 67nM.
INCB018424 (180 mg/kg, orally, twice a day) results in survive rate of greater than 90% by day 22 in a JAK2V617F-driven mouse model. INCB018424 (180 mg/kg, orally, twice a day) markedly reduces splenomegaly and circulating levels of inflammatory cytokines, and preferentially eliminated neoplastic cells, resulting in significantly prolonged survival without myelosuppressive or immunosuppressive effects in a JAK2V617F-driven mouse model.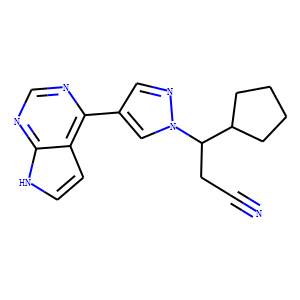 Catalog Number: A000579
CAS Number: 941678-49-5
PubChem Substance ID:355040183
Molecular Formula: C₁₇H₁₈N₆
Molecular Weight:306.37
Purity: ≥95%
* For research use only. Not for human or veterinary use.
Synonym
Property
| | |
| --- | --- |
| Molecular Formula: | C₁₇H₁₈N₆ |
| Molecular Weight | 306.37 |
| Target: | JAK |
| Solubility | >15.3mg/mL in DMSO |
| Purity | ≥95% |
| Storage | 3 years -20C powder |
| MDL | MFCD12031592 |
Computed Descriptor
| | |
| --- | --- |
| InChI | InChI=1S/C17H18N6/c18-7-5-15(12-3-1-2-4-12)23-10-13(9-22-23)16-14-6-8-19-17(14)21-11-20-16/h6,8-12,15H,1-5H2,(H,19,20,21)/t15-/m1/s1 |
| InChIKey | HFNKQEVNSGCOJV-OAHLLOKOSA-N |
| SMILES | C1CCC(C1)C(CC#N)N2C=C(C=N2)C3=C4C=CNC4=NC=N3 |