Resveratrol - CAS 501-36-0
Resveratrol (CAS 501-36-0) is a phytoalexin derived from grapes and other food products with antioxidant and potential chemopreventive activities. Resveratrol induces phase II drug-metabolizing enzymes (anti-initiation activity); mediates anti-inflammatory effects and inhibits cyclooxygenase and hydroperoxidase functions (anti-promotion activity); and induces promyelocytic leukemia cell differentiation (anti-progression activity), thereby exhibiting activities in three major steps of carcinogenesis. This agent may inhibit TNF-induced activation of NF-kappaB in a dose- and time-dependent manner.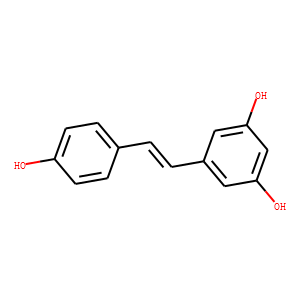 Molecular Formula: C14H12O3
Molecular Weight:228.24
* For research use only. Not for human or veterinary use.
Synonym
| | |
| --- | --- |
| Synonyms | trans-resveratrol; 3,4′,5-Trihydroxystilbene |
Property
| | |
| --- | --- |
| Molecular Formula: | C14H12O3 |
| Molecular Weight | 228.24 |
| Target: | Sirtuin |
| Solubility | >9.7mg/mL in DMSO |
| Purity | ≥95% |
| Storage | <label class= |
| MDL | MFCD00133799 |
| Overview of Clinical Research | <span style="color:#000000;"><span style="font-family:arial,helvetica,sans-serif;"><span style="font-size:12px;">Resveratrol is an a<span style="font-variant-ligatures: normal; orphans: 2; widows: 2;">ntioxidant and a ribonucleotide reductase inhibitor as well as a SIRT1 protein stimulant. It has been granted for its orphan drug status in MELAS syndrome.</span></span></span></span> |
Computed Descriptor
| | |
| --- | --- |
| IUPAC Name | 5-[(E)-2-(4-hydroxyphenyl)ethenyl]benzene-1,3-diol |
| InChI | InChI=1S/C14H12O3/c15-12-5-3-10(4-6-12)1-2-11-7-13(16)9-14(17)8-11/h1-9,15-17H/b2-1+ |
| InChIKey | LUKBXSAWLPMMSZ-OWOJBTEDSA-N |
| SMILES | C1=CC(=CC=C1C=CC2=CC(=CC(=C2)O)O)O |