Remdesivir - CAS 1809249-37-3
Remdesivir(Cat No.: I009001), also known as GS-5734, is a novel nucleotide analog precursor drug, which is an antiviral drug. It is used to treat silk virus infections such as Ebola virus disease and Marburg virus, although it was also later found to show reasonable antiviral activity against more distant related viruses such as respiratory syncytial virus, Junin virus, Lassa fever virus, and the Middle East Respiratory syndrome coronavirus. This product is mainly used in medical research and development and other scientific research purposes.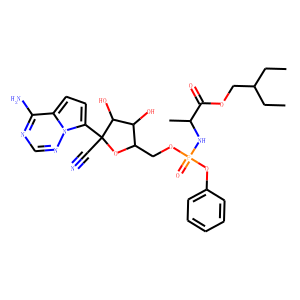 Molecular Formula: C27H35N6O8P
Molecular Weight:602.58
Purity: 98.0%
Inventory:In stock!
* For research use only. Not for human or veterinary use.
Synonym
| | |
| --- | --- |
| Synonyms | Remdesivir; GS-5734; GS 5734; GS5734.;2-ethylbutyl ((S)-(((2R,3S,4R,5R)-5-(4-aminopyrrolo[1,2-b]pyridazin-7-yl)-5-cyano-3,4-dihydroxytetrahydrofuran-2-yl)methoxy)(phenoxy)phosphoryl)-L-alaninate |
Property
| | |
| --- | --- |
| Molecular Formula: | C27H35N6O8P |
| Molecular Weight | 602.58 |
| Solubility | Soluble in DMSO |
| Purity | 98.0% |
| Storage | Store at -20°C |
| Overview of Clinical Research | Originator: Gilead Sciences<br /> Developer:China-Japan Friendship Hospital; Dr Reddys Laboratories; Gilead Sciences; INSERM; National Institute of Allergy and Infectious Diseases; NeuroActiva; Quantum Leap Healthcare Collaborative; Roche Class:Adenine nucleotides; Amines; Antivirals; Esters; Furans; Nitriles; Phosphorus compounds; Pyridazines; Pyrroles; Small molecules; Triazines Mechanism of ActionRNA: replicase inhibitors Orphan Drug Status:No New Molecular Entity: Yes |
| Analysis method | HPLC |
Computed Descriptor
| | |
| --- | --- |
| IUPAC Name | 2-ethylbutyl (2S)-2-[[[(2R,3S,4R,5R)-5-(4-aminopyrrolo[2,1-f][1,2,4]triazin-7-yl)-5-cyano-3,4-dihydroxyoxolan-2-yl]methoxy-phenoxyphosphoryl]amino]propanoate |
| InChI | InChI=1S/C27H35N6O8P/c1-4-18(5-2)13-38-26(36)17(3)32-42(37,41-19-9-7-6-8-10-19)39-14-21-23(34)24(35)27(15-28,40-21)22-12-11-20-25(29)30-16-31-33(20)22/h6-12,16-18,21,23-24,34-35H,4-5,13-14H2,1-3H3,(H,32,37)(H2,29,30,31)/t17-,21+,23+,24+,27-,42-/m0/s1 |
| InChIKey | RWWYLEGWBNMMLJ-YSOARWBDSA-N |
| SMILES | CCC(CC)COC(=O)C(C)NP(=O)(OCC1C(C(C(O1)(C#N)C2=CC=C3N2N=CN=C3N)O)O)OC4=CC=CC=C4 |