Ramipril - CAS 87333-19-5
Ramipril (Cat No.:A000717) is an antihypertensive agent, an angiotensin-converting enzyme (ACE) inhibitor that converts to an active diacid metabolite. It is used for renal and mild, moderate and severe essential hypertension, as well as moderate and malignant congestive heart failure.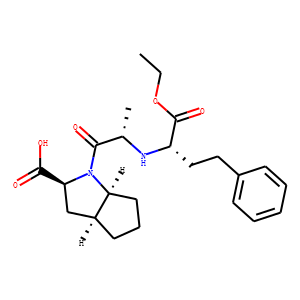 Molecular Formula: C23H32N2O5
Molecular Weight:416.5
Purity: ≥95%
Inventory:In Stock
* For research use only. Not for human or veterinary use.
Property
| | |
| --- | --- |
| Molecular Formula: | C23H32N2O5 |
| Molecular Weight | 416.5 |
| Target: | ACE |
| Solubility | >17.6mg/mL in DMSO |
| Purity | ≥95% |
| Storage | <label class= |
| Overview of Clinical Research | <span style="color:#000000;"><span style="font-family:arial,helvetica,sans-serif;"><span style="font-size:12px;">Ramipril is an ACE inhibitor. The&nbsp;<span style="orphans: 2; widows: 2;">Phase-II clinical trials in COVID-2019 infections starts in USA (PO) (NCT04366050).</span></span></span></span> |
Computed Descriptor
| | |
| --- | --- |
| IUPAC Name | (2S,3aS,6aS)-1-[(2S)-2-[[(2S)-1-ethoxy-1-oxo-4-phenylbutan-2-yl]amino]propanoyl]-3,3a,4,5,6,6a-hexahydro-2H-cyclopenta[b]pyrrole-2-carboxylic acid |
| InChI | InChI=1S/C23H32N2O5/c1-3-30-23(29)18(13-12-16-8-5-4-6-9-16)24-15(2)21(26)25-19-11-7-10-17(19)14-20(25)22(27)28/h4-6,8-9,15,17-20,24H,3,7,10-14H2,1-2H3,(H,27,28)/t15-,17-,18-,19-,20-/m0/s1 |
| InChIKey | HDACQVRGBOVJII-JBDAPHQKSA-N |
| SMILES | O=C([C@H](C)N[C@H](C(OCC)=O)CCC1=CC=CC=C1)N2[C@]3([H])[C@](CCC3)([H])C[C@H]2C(O)=O |