Quinine Hydrochloride Dihydrate - CAS 6119-47-7
Quinine Hydrochloride Dihydrate(CAT: A000470) is a stereoisomer of quinidine. It is commonly used to treat malaria as a potassium channel blocker. This product is used for organic synthesis, pharmaceutical research and development, and other scientific purposes.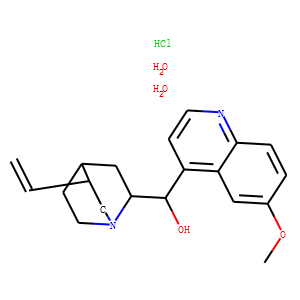 Molecular Formula: C20H24N2O2.HCl.2H2O
Molecular Weight:396.91
Purity: ≥95%
Inventory:In Stock
* For research use only. Not for human or veterinary use.
Synonym
| | |
| --- | --- |
| Synonyms | (8α,9R)-6'-Methoxycinchonan-9-ol Monohydrochloride Dihydrate; Quinine Hydrochloride Dihydrate; |
Property
| | |
| --- | --- |
| Molecular Formula: | C20H24N2O2.HCl.2H2O |
| Molecular Weight | 396.91 |
| Target: | Potassium channel |
| Solubility | H2O: soluble; DMSO: 79 mg/mL |
| Purity | ≥95% |
| Storage | Room temperature |
| MDL | MFCD00151248 |
Computed Descriptor
| | |
| --- | --- |
| IUPAC Name | (R)-[(2S,4S,5R)-5-ethenyl-1-azabicyclo[2.2.2]octan-2-yl]-(6-methoxyquinolin-4-yl)methanol;dihydrate;hydrochloride |
| InChI | 1S/C20H24N2O2.ClH.2H2O/c1-3-13-12-22-9-7-14(13)10-19(22)20(23)16-6-8-21-18-5-4-15(24-2)11-17(16)18;;;/h3-6,8,11,13-14,19-20,23H,1,7,9-10,12H2,2H3;1H;2*1H2/t13-,14-,19-,20+;;;/m0.../s1 |
| InChIKey | MPQKYZPYCSTMEI-FLZPLBAKSA-N |
| SMILES | COC1=CC2=C(C=CN=C2C=C1)C(C3CC4CCN3CC4C=C)O.O.O.Cl |