Propargyl Bromide- CAS 106-96-7
Propargyl Bromide (Cat No.:R020379), also known as 3-Bromopropyne; NSC 8801, 3-Bromopropyne is mainly used as soil insecticide, chemical intermediate, and also used in the synthesis of various derivatives of acetylene; the pharmaceutical industry is used in the manufacture of the anti-mold drug chlorpropargyl iodide, and for the manufacture of propargylamine.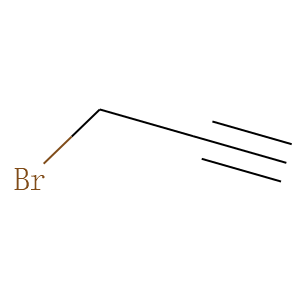 Molecular Formula: C3H3Br
Molecular Weight:118.961
* For research use only. Not for human or veterinary use.
Synonym
| | |
| --- | --- |
| Synonyms | 3-Bromopropyne; 1-Bromo-2-propyne; 2-Propynyl Bromide; 3-Bromo-1-propyne; 3-Bromopropyne; NSC 8801; |
Property
| | |
| --- | --- |
| Molecular Formula: | C3H3Br |
| Molecular Weight | 118.961 |
| Purity | ≥95% |
| Storage | -20°C |
Computed Descriptor
| | |
| --- | --- |
| IUPAC Name | 3-bromoprop-1-yne |
| InChI | InChI=1S/C3H3Br/c1-2-3-4/h1H,3H2 |
| InChIKey | YORCIIVHUBAYBQ-UHFFFAOYSA-N |
| SMILES | C#CCBr |