POBN - CAS 66893-81-0
POBN(CAT: R066808), a hydrophilic catcher that can penetrate cells, is often used for the detection of free radical fragments as a water-soluble analog of N-tert-butyl-α-phenylnitrone. This product is used in organic synthesis, pharmaceutical research and development, and other scientific research fields.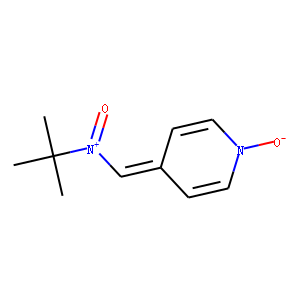 Molecular Formula: C10H14N2O2
Molecular Weight:194.234
* For research use only. Not for human or veterinary use.
Synonym
Property
| | |
| --- | --- |
| Molecular Formula: | C10H14N2O2 |
| Molecular Weight | 194.234 |
| Purity | ≥95% |
| Storage | -20°C |
Computed Descriptor
| | |
| --- | --- |
| IUPAC Name | tert-butyl-[(1-oxidopyridin-4-ylidene)methyl]-oxoazanium |
| InChI | InChI=1S/C10H14N2O2/c1-10(2,3)12(14)8-9-4-6-11(13)7-5-9/h4-8H,1-3H3 |
| InChIKey | RNRMWTCECDHNQU-UHFFFAOYSA-N |
| SMILES | CC(C)(C)[N+](=O)C=C1C=CN(C=C1)[O-] |