phosphoramide mustard - CAS 10159-53-2
Phosphoramide Mustard (CAT: M123069) is also called Phosphoramide Mustard D8. It is the active metabolite of cyclophosphamide (HY-17420) and has anti-tumor activity. Phosphoramide mustard can induce DNA damage. This product is used for medical research and development.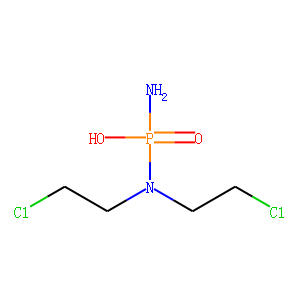 Molecular Formula: C4H11Cl2N2O2P
Molecular Weight:221.018
* For research use only. Not for human or veterinary use.
Synonym
| | |
| --- | --- |
| Synonyms | phosphoramide mustard |
Property
| | |
| --- | --- |
| Molecular Formula: | C4H11Cl2N2O2P |
| Molecular Weight | 221.018 |
| Purity | ≥95% |
| Storage | Desiccate at -20C |
Computed Descriptor
| | |
| --- | --- |
| IUPAC Name | amino-[bis(2-chloroethyl)amino]phosphinic acid |
| InChI | InChI=1S/C4H11Cl2N2O2P/c5-1-3-8(4-2-6)11(7,9)10/h1-4H2,(H3,7,9,10) |
| InChIKey | RJXQSIKBGKVNRT-UHFFFAOYSA-N |
| SMILES | C(CCl)N(CCCl)P(=O)(N)O |