Paclitaxel- CAS 33069-62-4
Paclitaxel (CAS 33069-62-4) is a compound extracted from the Pacific yew tree Taxus brevifolia with antineoplastic activity. Paclitaxel binds to tubulin and inhibits the disassembly of microtubules, thereby resulting in the inhibition of cell division. This agent also induces apoptosis by binding to and blocking the function of the apoptosis inhibitor protein Bcl-2 (B-cell Leukemia 2).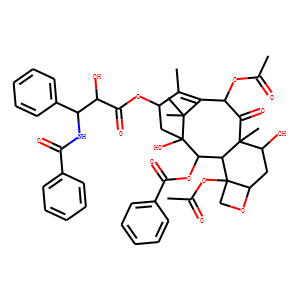 Molecular Formula: C₄₇H₅₁NO₁₄
Molecular Weight:853.92
* For research use only. Not for human or veterinary use.
Synonym
| | |
| --- | --- |
| Synonyms | TAXOL; Taxol A; 33069-62-4; Abraxane; Paxene |
Property
| | |
| --- | --- |
| Molecular Formula: | C₄₇H₅₁NO₁₄ |
| Molecular Weight | 853.92 |
| Target: | Microtubule/Tubulin |
| Solubility | >42.7mg/mL in DMSO |
| Purity | ≥95% |
| Storage | -20°C |
| MDL | MFCD00869953 |
Computed Descriptor
| | |
| --- | --- |
| IUPAC Name | [(1S,2S,3R,4S,7R,9S,10S,12R,15S)-4,12-diacetyloxy-15-[(2R,3S)-3-benzamido-2-hydroxy-3-phenylpropanoyl]oxy-1,9-dihydroxy-10,14,17,17-tetramethyl-11-oxo-6-oxatetracyclo[11.3.1.03,10.04,7]heptadec-13-en-2-yl] benzoate |
| InChI | InChI=1S/C47H51NO14/c1-25-31(60-43(56)36(52)35(28-16-10-7-11-17-28)48-41(54)29-18-12-8-13-19-29)23-47(57)40(61-42(55)30-20-14-9-15-21-30)38-45(6,32(51)22-33-46(38,24-58-33)62-27(3)50)39(53)37(59-26(2)49)34(25)44(47,4)5/h7-21,31-33,35-38,40,51-52,57H,22-24 |
| InChIKey | RCINICONZNJXQF-MZXODVADSA-N |
| SMILES | CC1=C2C(C(=O)C3(C(CC4C(C3C(C(C2(C)C)(CC1OC(=O)C(C(C5=CC=CC=C5)NC(=O)C6=CC=CC=C6)O)O)OC(=O)C7=CC=CC=C7)(CO4)OC(=O)C)O)C)OC(=O)C |