obtusifoliol - CAS 16910-32-0
Obtusifoliol(CAT: M087311) is a naturally occurring triterpenoid compound found in various plant species. Its mode of action involves being a bioactive compound with potential biological activities. Pharmacologically, obtusifoliol has been studied for its various effects, including anti-inflammatory, antioxidant, and antifungal properties. It has shown promise in preclinical studies, demonstrating its potential as a natural anti-inflammatory agent to inhibit inflammatory mediators, scavenge free radicals, and exhibit antifungal activity against certain fungi.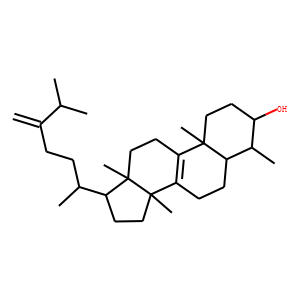 Molecular Formula: C30H50O
Molecular Weight:426.729
* For research use only. Not for human or veterinary use.
Property
| | |
| --- | --- |
| Molecular Formula: | C30H50O |
| Molecular Weight | 426.729 |
| Purity | ≥95% |
| Storage | Store at -20C |
Computed Descriptor
| | |
| --- | --- |
| IUPAC Name | (3S,4S,5S,10S,13R,14R,17R)-4,10,13,14-tetramethyl-17-[(2R)-6-methyl-5-methylideneheptan-2-yl]-1,2,3,4,5,6,7,11,12,15,16,17-dodecahydrocyclopenta[a]phenanthren-3-ol |
| InChI | InChI=1S/C30H50O/c1-19(2)20(3)9-10-21(4)23-13-17-30(8)26-12-11-24-22(5)27(31)15-16-28(24,6)25(26)14-18-29(23,30)7/h19,21-24,27,31H,3,9-18H2,1-2,4-8H3/t21-,22+,23-,24+,27+,28+,29-,30+/m1/s1 |
| InChIKey | MMNYKQIDRZNIKT-VSADUBDNSA-N |
| SMILES | CC1C2CCC3=C(C2(CCC1O)C)CCC4(C3(CCC4C(C)CCC(=C)C(C)C)C)C |