Nitenpyram - CAS 150824-47-8
Nitenpyram(Cat No.:A000124), is a synthetic insecticide belonging to the neonicotinoid class of chemicals. It is commonly used to control and eradicate fleas on pets, particularly cats and dogs, as well as in agricultural settings to combat various insect pests. Nitenpyram works by targeting the nervous systems of insects, disrupting their normal functioning, and ultimately leading to paralysis and death. It is available in various formulations, including oral tablets and topical treatments for pets.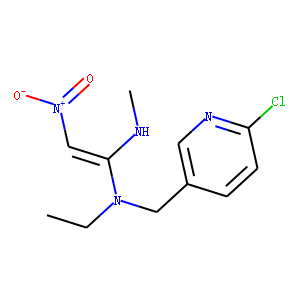 Molecular Formula: C11H15ClN4O2
Molecular Weight:270.72
* For research use only. Not for human or veterinary use.
Synonym
Property
| | |
| --- | --- |
| Molecular Formula: | C11H15ClN4O2 |
| Molecular Weight | 270.72 |
| Target: | AChR |
| Solubility | Soluble in DMSO > 10 mM |
| Purity | ≥95% |
| Storage | Room temperature |
Computed Descriptor
| | |
| --- | --- |
| IUPAC Name | (E)-1-N/'-[(6-chloropyridin-3-yl)methyl]-1-N/'-ethyl-1-N-methyl-2-nitroethene-1,1-diamine |
| InChI | InChI=1S/C11H15ClN4O2/c1-3-15(11(13-2)8-16(17)18)7-9-4-5-10(12)14-6-9/h4-6,8,13H,3,7H2,1-2H3/b11-8+ |
| InChIKey | CFRPSFYHXJZSBI-DHZHZOJOSA-N |
| SMILES | CCN(CC1=CN=C(C=C1)Cl)C(=C[N+](=O)[O-])NC |