N-Carbethoxyphthalimide - CAS 22509-74-6
N-Carbethoxyphthalimide(Cat No.:R027787), is a chemical compound used in organic synthesis and as a reagent in various chemical reactions. It is a phthalimide derivative with a carb ethoxy (ethyl ester) group attached to the nitrogen atom. N-Carbethoxyphthalimide is commonly employed as a source of the N-acyliminium ion, a reactive intermediate in organic chemistry. It participates in reactions like the N-acyliminium ion cyclization and various N-alkylation processes, making it a valuable building block in the synthesis of diverse organic compounds and pharmaceutical intermediates.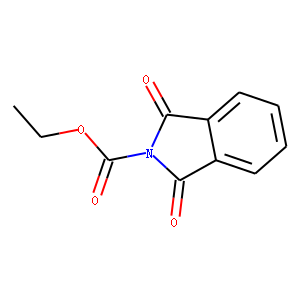 Molecular Formula: C11H9NO4
Molecular Weight:219.19
* For research use only. Not for human or veterinary use.
Synonym
| | |
| --- | --- |
| Synonyms | ,3-Dioxo-1,3-dihydroisoindole-2-carboxylic acid ethyl ester; 2-(Carbethoxy)phthalimide; Carbethoxyphthalimide; Ethyl 1,3-dioxo-1,3-dihydro-2H-isoindole-2-carboxylate; Ethyl 1,3-dioxo-1,3-dihydroisoindole-2-carboxylate; Ethyl 1,3-dioxo-2,3-dihydro-1H- |
Property
| | |
| --- | --- |
| Molecular Formula: | C11H9NO4 |
| Molecular Weight | 219.19 |
| Purity | ≥95% |
| Storage | 2-8°C |
Computed Descriptor
| | |
| --- | --- |
| IUPAC Name | ethyl 1,3-dioxoisoindole-2-carboxylate |
| InChI | InChI=1S/C11H9NO4/c1-2-16-11(15)12-9(13)7-5-3-4-6-8(7)10(12)14/h3-6H,2H2,1H3 |
| InChIKey | VRHAQNTWKSVEEC-UHFFFAOYSA-N |
| SMILES | CCOC(=O)N1C(=O)C2=CC=CC=C2C1=O |