Molnupiravir - CAS 2492423-29-5
Molnupiravir (EIDD-2801) is an orally bioavailable prodrug of the ribonucleoside analog EIDD-1931. Molnupiravir has broad spectrum antiviral activity against influenza virus and multiple coronaviruses, such as SARS-CoV-2, MERS-CoV, SARS-CoV. Molnupiravir has the potential for the research of COVID-19, and seasonal and pandemic influenza[1][2].
Molnupiravir (50-500 mg/kg; p.o.; every 12 hours for 3 days) is robustly antiviral and able to prevent SARS-CoV replication and disease[1].
Molnupiravir (7 mg/kg; p.o.; twice daily for 3.5 days) significantly reduces shed virus load and duration of fever[2].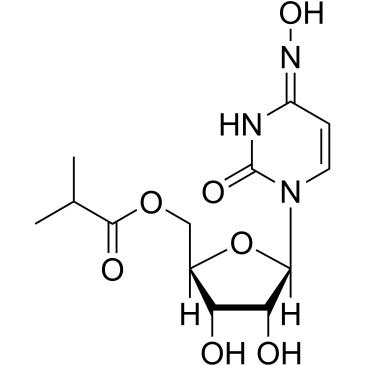 Molecular Formula: C₁₃H₁₉N₃O₇
Molecular Weight:329.31
* For research use only. Not for human or veterinary use.
Property
| | |
| --- | --- |
| Molecular Formula: | C₁₃H₁₉N₃O₇ |
| Molecular Weight | 329.31 |
| Purity | ≥95% |