Minocycline Hydrochloride - CAS 13614-98-7
Minocycline hydrochloride(cas 13614-98-7) is a tetracycline antibiotic. Displays neuroprotective, antiapoptotic, anti-inflammatory and antimicrobial effects. Acts as a matrix metalloproteinase (MMP) inhibitor; attenuates disease severity in mouse models of multiple sclerosis. Orally active and brain penetrant.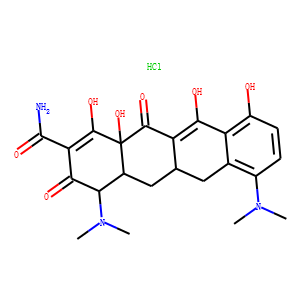 Molecular Formula: C₂₃H₂₇N₃O₇.HCl
Molecular Weight:493.94
* For research use only. Not for human or veterinary use.
Synonym
Property
| | |
| --- | --- |
| Molecular Formula: | C₂₃H₂₇N₃O₇.HCl |
| Molecular Weight | 493.94 |
| Target: | Antibiotic |
| Solubility | Soluble to 100 mM in DMSO and to 25 mM in water |
| Purity | ≥95% |
| Storage | Store at -20C |
| MDL | MFCD00083669 |
Computed Descriptor
| | |
| --- | --- |
| InChI | InChI=1S/C23H27N3O7.ClH/c1-25(2)12-5-6-13(27)15-10(12)7-9-8-11-17(26(3)4)19(29)16(22(24)32)21(31)23(11,33)20(30)14(9)18(15)28;/h5-6,9,11,17,27-28,31,33H,7-8H2,1-4H3,(H2,24,32);1H/t9-,11-,17-,23-;/m0./s1 |
| InChIKey | WTJXVDPDEQKTCV-VQAITOIOSA-N |
| SMILES | CN(C)C1C2CC3CC4=C(C=CC(=C4C(=C3C(=O)C2(C(=C(C1=O)C(=O)N)O)O)O)O)N(C)C.Cl |