Microcystin-LR - CAS 101043-37-2
Microcystin-LR(Cat No.:M007126), is a naturally occurring cyclic peptide toxin produced by certain species of freshwater cyanobacteria, commonly known as blue-green algae. It is one of the most studied and toxic variants of microcystins. Exposure to water contaminated with microcystin-LR can pose a health risk to humans and animals as it can cause liver damage and other adverse effects.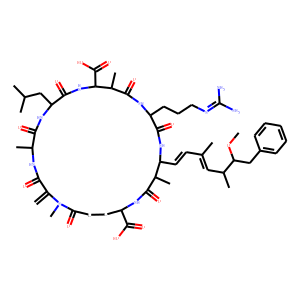 Molecular Formula: C₄₉H₇₄N₁₀O₁₂
Molecular Weight:995.17
Purity: ≥95%
Inventory:In Stock
* For research use only. Not for human or veterinary use.
Property
| | |
| --- | --- |
| Molecular Formula: | C₄₉H₇₄N₁₀O₁₂ |
| Molecular Weight | 995.17 |
| Target: | Protein Ser/Thr Phosphatases |
| Solubility | Soluble in 100% ethanol, methanol or DMSO |
| Purity | ≥95% |
| Storage | Store at -20°C |
| MDL | MFCD01774058 |
Computed Descriptor
| | |
| --- | --- |
| IUPAC Name | (5R,8S,11R,12S,15S,18S,19S,22R)-15-[3-(diaminomethylideneamino)propyl]-18-[(1E,3E,5S,6S)-6-methoxy-3,5-dimethyl-7-phenylhepta-1,3-dienyl]-1,5,12,19-tetramethyl-2-methylidene-8-(2-methylpropyl)-3,6,9,13,16,20,25-heptaoxo-1,4,7,10,14,17,21-heptazacyclopentacosane-11,22-dicarboxylic acid |
| InChI | InChI=1S/C49H74N10O12/c1-26(2)23-37-46(66)58-40(48(69)70)30(6)42(62)55-35(17-14-22-52-49(50)51)45(65)54-34(19-18-27(3)24-28(4)38(71-10)25-33-15-12-11-13-16-33)29(5)41(61)56-36(47(67)68)20-21-39(60)59(9)32(8)44(64)53-31(7)43(63)57-37/h11-13,15-16,18-19,24,26,28-31,34-38,40H,8,14,17,20-23,25H2,1-7,9-10H3,(H,53,64)(H,54,65)(H,55,62)(H,56,61)(H,57,63)(H,58,66)(H,67,68)(H,69,70)(H4,50,51,52)/b19-18+,27-24+/t28-,29-,30-,31+,34-,35-,36+,37-,38-,40+/m0/s1 |
| InChIKey | ZYZCGGRZINLQBL-GWRQVWKTSA-N |
| SMILES | CC1C(NC(=O)C(NC(=O)C(C(NC(=O)C(NC(=O)C(NC(=O)C(=C)N(C(=O)CCC(NC1=O)C(=O)O)C)C)CC(C)C)C(=O)O)C)CCCN=C(N)N)C=CC(=CC(C)C(CC2=CC=CC=C2)OC)C |