Metformin - CAS 657-24-9
Metformin(CAT: R039773) is a diabetes drug. It can inhibit the mitochondrial respiratory chain in the liver, leading to AMPK activation and enhancing insulin sensitivity in type 2 diabetes studies. This product is used for organic synthesis, pharmaceutical research and development, and other scientific purposes.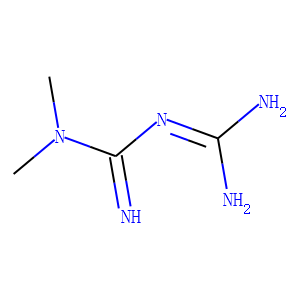 Molecular Formula: C4H11N5
Molecular Weight:129.167
* For research use only. Not for human or veterinary use.
Property
| | |
| --- | --- |
| Molecular Formula: | C4H11N5 |
| Molecular Weight | 129.167 |
| Purity | ≥95% |
| Storage | 3 years -20C powder |
Computed Descriptor
| | |
| --- | --- |
| IUPAC Name | 3-(diaminomethylidene)-1,1-dimethylguanidine |
| InChI | InChI=1S/C4H11N5/c1-9(2)4(7)8-3(5)6/h1-2H3,(H5,5,6,7,8) |
| InChIKey | XZWYZXLIPXDOLR-UHFFFAOYSA-N |
| SMILES | CN(C)C(=N)N=C(N)N |