meta-Topolin - CAS 75737-38-1
Meta-Topolin(Cat No.:I012087), also known as m-Topolin, is a highly active aromatic cytokinin. Cytokinins are plant hormones that play crucial roles in various physiological processes, including cell division, growth, and development. Meta-Topolin exhibits potent cytokinin activity, promoting cell division and differentiation in plants. It is particularly effective in stimulating shoot proliferation and inducing adventitious root formation. Due to its high activity, Meta-Topolin is widely used in plant tissue culture, agriculture, and horticulture applications, where it can enhance plant growth, improve crop yield, and aid in plant propagation and regeneration.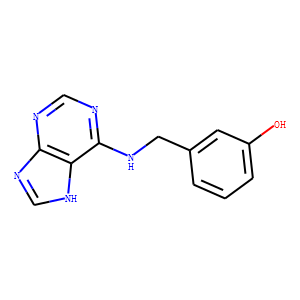 Molecular Formula: C12H11N5O
Molecular Weight:241.25
* For research use only. Not for human or veterinary use.
Synonym
| | |
| --- | --- |
| Synonyms | 6-(3-Hydroxybenzylamino)purine; mT |
Property
| | |
| --- | --- |
| Molecular Formula: | C12H11N5O |
| Molecular Weight | 241.25 |
| Target: | An aromatic cytokinin and growth-regulating hormone |
| Solubility | DMSO |
| Purity | ≥95% |
| Storage | Store at -20°C |
| MDL | MFCD03065993 |
Computed Descriptor
| | |
| --- | --- |
| IUPAC Name | 3-[(7H-purin-6-ylamino)methyl]phenol |
| InChI | InChI=1S/C12H11N5O/c18-9-3-1-2-8(4-9)5-13-11-10-12(15-6-14-10)17-7-16-11/h1-4,6-7,18H,5H2,(H2,13,14,15,16,17) |
| InChIKey | BUDWTFCZGZYQHZ-UHFFFAOYSA-N |
| SMILES | C1=CC(=CC(=C1)O)CNC2=NC=NC3=C2NC=N3 |