Melanotan II - CAS 121062-08-6
Melanotan II (CAT: M028940), an MC3-R/MC4-R melanocortin agonist, is a synthetic analog of the peptide hormone α-melanocyte-stimulating hormone. It induces melanogenesis and thus increases skin pigmentation. This product is used for medical research and development and other scientific research purposes.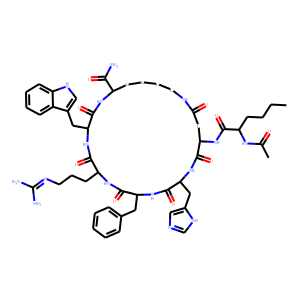 Molecular Formula: C50H69N15O9
Molecular Weight:1024.19
* For research use only. Not for human or veterinary use.
Synonym
| | |
| --- | --- |
| Synonyms | (3S,6S,9R,12S,15S,23S)-12-((1H-imidazol-5-yl)methyl)-3-((1H-indol-3-yl)methyl)-15-((S)-2-acetamidohexanamido)-9-benzyl-6-(3-((diaminomethylene)amino)propyl)-2,5,8,11,14,17-hexaoxo-1,4,7,10,13,18-hexaazacyclotricosane-23-carboxamide |
Property
| | |
| --- | --- |
| Molecular Formula: | C50H69N15O9 |
| Molecular Weight | 1024.19 |
| Target: | Melanocortin (MC) Receptors |
| Solubility | Soluble to 1 mg/ml in sterile water |
| Purity | ≥95% |
| Storage | Desiccate at -20C |
| Overview of Clinical Research | <span style="color:#000000;"><span style="font-size:12px;"><span style="caret-color: rgb(0, 0, 0); font-family: arial, helvetica, sans-serif;">Melanotan II, </span></span><span style="caret-color: rgb(0, 0, 0); font-family: arial, helvetica, sans-serif;">a m</span><span style="font-size:12px;"><span style="font-family:arial,helvetica,sans-serif;"><span style="font-variant-ligatures: normal; orphans: 2; widows: 2;">elanocortin receptor agonist,</span><span style="caret-color: rgb(0, 0, 0);">&nbsp;</span></span><span style="caret-color: rgb(0, 0, 0); font-family: arial, helvetica, sans-serif; orphans: 2; widows: 2;">was under development as drug candidate for male sexual dysfunction and erectile dysfunction&nbsp;</span><span style="font-family: sans-serif; font-variant-ligatures: normal; orphans: 2; widows: 2;">but clinical development ceased by 2003.</span></span></span> |
Computed Descriptor
| | |
| --- | --- |
| IUPAC Name | (3S,6S,9R,12S,15S,23S)-15-[[(2S)-2-acetamidohexanoyl]amino]-9-benzyl-6-[3-(diaminomethylideneamino)propyl]-12-(1H-imidazol-5-ylmethyl)-3-(1H-indol-3-ylmethyl)-2,5,8,11,14,17-hexaoxo-1,4,7,10,13,18-hexazacyclotricosane-23-carboxamide |
| InChI | InChI=1S/C50H69N15O9/c1-3-4-16-36(59-29(2)66)44(69)65-41-25-42(67)55-20-11-10-18-35(43(51)68)60-47(72)39(23-31-26-57-34-17-9-8-15-33(31)34)63-45(70)37(19-12-21-56-50(52)53)61-46(71)38(22-30-13-6-5-7-14-30)62-48(73)40(64-49(41)74)24-32-27-54-28-58-32/h5-9,13-15,17,26-28,35-41,57H,3-4,10-12,16,18-25H2,1-2H3,(H2,51,68)(H,54,58)(H,55,67)(H,59,66)(H,60,72)(H,61,71)(H,62,73)(H,63,70)(H,64,74)(H,65,69)(H4,52,53,56)/t35-,36-,37-,38+,39-,40-,41-/m0/s1 |
| InChIKey | JDKLPDJLXHXHNV-MFVUMRCOSA-N |
| SMILES | CCCCC(C(=O)NC1CC(=O)NCCCCC(NC(=O)C(NC(=O)C(NC(=O)C(NC(=O)C(NC1=O)CC2=CN=CN2)CC3=CC=CC=C3)CCCN=C(N)N)CC4=CNC5=CC=CC=C54)C(=O)N)NC(=O)C |