PT-141 - CAS 189691-06-3
PT-141(CAT: M043676), a synthetic peptide analog of α-MSH, is an agonist at melanocortin receptors including the MC3R and MC4R, which are expressed primarily in the central nervous system. This product is mainly used in medical research and development and other scientific research purposes.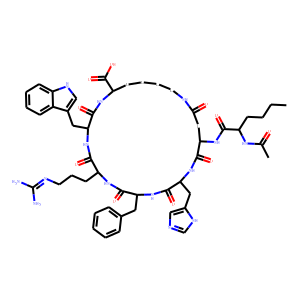 Molecular Formula: C50H68N14O10
Molecular Weight:1025.182
* For research use only. Not for human or veterinary use.
Property
| | |
| --- | --- |
| Molecular Formula: | C50H68N14O10 |
| Molecular Weight | 1025.182 |
| Purity | ≥95% |
| Storage | Desiccate at -20C |
Computed Descriptor
| | |
| --- | --- |
| IUPAC Name | (3S,6S,9R,12S,15S,23S)-15-[[(2S)-2-acetamidohexanoyl]amino]-9-benzyl-6-[3-(diaminomethylideneamino)propyl]-12-(1H-imidazol-5-ylmethyl)-3-(1H-indol-3-ylmethyl)-2,5,8,11,14,17-hexaoxo-1,4,7,10,13,18-hexazacyclotricosane-23-carboxylic acid |
| InChI | InChI=1S/C50H68N14O10/c1-3-4-16-35(58-29(2)65)43(67)64-41-25-42(66)54-20-11-10-18-37(49(73)74)60-46(70)39(23-31-26-56-34-17-9-8-15-33(31)34)62-44(68)36(19-12-21-55-50(51)52)59-45(69)38(22-30-13-6-5-7-14-30)61-47(71)40(63-48(41)72)24-32-27-53-28-57-32/h5-9,13-15,17,26-28,35-41,56H,3-4,10-12,16,18-25H2,1-2H3,(H,53,57)(H,54,66)(H,58,65)(H,59,69)(H,60,70)(H,61,71)(H,62,68)(H,63,72)(H,64,67)(H,73,74)(H4,51,52,55)/t35-,36-,37-,38+,39-,40-,41-/m0/s1 |
| InChIKey | FFHBJDQSGDNCIV-MFVUMRCOSA-N |
| SMILES | CCCCC(C(=O)NC1CC(=O)NCCCCC(NC(=O)C(NC(=O)C(NC(=O)C(NC(=O)C(NC1=O)CC2=CN=CN2)CC3=CC=CC=C3)CCCN=C(N)N)CC4=CNC5=CC=CC=C54)C(=O)O)NC(=O)C |