m-PEG1-acid - CAS 2544-06-1
m-PEG1-acid (CAT: I032729) is a polyethylene glycol (PEG) derivative that features a terminal carboxylic acid group. This PEG derivative offers versatility in bioconjugation and drug delivery applications. The terminal carboxylic acid group can react with primary amine groups in the presence of activators like EDC (N-(3-Dimethylaminopropyl)-N'-ethylcarbodiimide) or DCC (N,N'-Dicyclohexylcarbodiimide) to form stable amide bonds. The hydrophilic PEG spacer enhances solubility in aqueous media, making m-PEG1-acid suitable for use in aqueous-based formulations.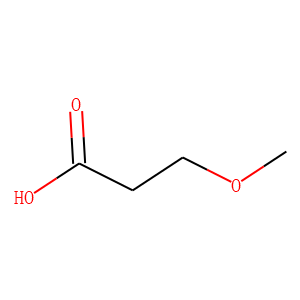 Molecular Formula: C4H8O3
Molecular Weight:104.11
* For research use only. Not for human or veterinary use.
Synonym
Property
| | |
| --- | --- |
| Molecular Formula: | C4H8O3 |
| Molecular Weight | 104.11 |
| Solubility | Soluble in DMSO |
| Purity | 95.0% |
| Storage | Dry, dark and at 0 - 4 C for short term (days to weeks) or -20 C for long term (months to years). |
Computed Descriptor
| | |
| --- | --- |
| IUPAC Name | 3-methoxypropanoic acid |
| InChI | InChI=1S/C4H8O3/c1-7-3-2-4(5)6/h2-3H2,1H3,(H,5,6) |
| InChIKey | YSIKHBWUBSFBRZ-UHFFFAOYSA-N |
| SMILES | COCCC(O)=O |